Well I am back after a considerable lay-off. MIL is still in hospital and we are still no closer to knowing wether she will be able to go back to her own home. At 98, wiwth severe arthritis and other issues, the hospital is still not ready to let her back as they are not confident that she will be OK on her own. BUT MIL is adamant that she wants none of care home, the alternative. She is very active mentally and is in complete denial about her capabilities now. She is in a very good "intermediate care home" on the hospital campus, and they say they are not in any hurry to throw her out. But this is not sorting out the problems/ issues that we face as we cannot plan or do anything at the moment and my wife is visiting her mother every day. Leaving no time for anything.

Anyway, enough of my woes. here are a couple of atc's which I created for the MAMMA challenge on Flickr, this weeks theme was basque/corset. (I do wish you would let this subject lay down and die Margaret!). I have taken a male-orientated view on this subject and made what I hope are a couple of humerous cards. No lace or other frivolities from me!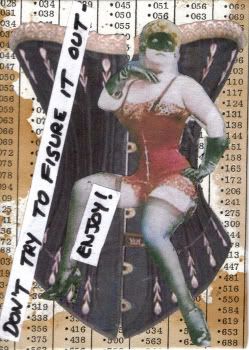 titled: Don't try to figure it out, enjoy!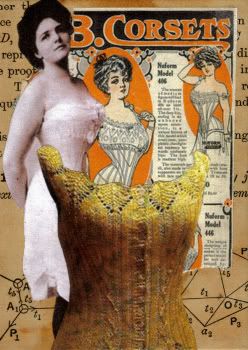 titled: The finer points of corsetry


While I am her I thought that I would just post a couple of paintings to bring you up to date with my recent output - sparse tho' it has been. the first is a water-colour painting. I decided to do more painting after the acrylic paintings over collage (see below on this post), water colour is my medium of choice so out they came. However I was very nervous about using up a large sheet of paper (I have to consider the expense!) and so decided that for this week, I would simply use a single colour ( sepia) and do a monochrome just to get back into the process of using the brushes. I have done a few aceo/atc sized paintings recently but nothing larger for several months. the result of this practice session can be seen below: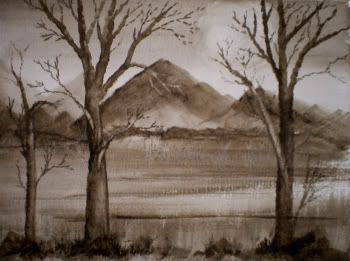 Not too bad, if I do say so myself. Can't wait for next weeks
art group
session. And that reminds me, I must update our group web-site
The last piece of work is another acylic over collage. very similar in construction to the others and this was based on a photograph of the mill painted by Constable in his work, The Haywain. So I called it, Willie's Cottage. It is not a literal copy, as I saw recently somewhere, I paint an idea NOT an ideal. Must remember that quote when I am next asked about my paintings.
So now we are all up-todate, and I can get on with a little gardening. But what the hell has happened to spring - it is freezing out there. Typical of our unreliable weather, just as I have a few hours to spare the conditions are horrble. Maybe I will fetch a paper and read it by the fire - at least I will be warm and comfortable. Thanks for visiting, I will hopefully be back regularly now - at least until MIL is sorted.