I am not sure that recycling is the correct word here? The vintage scraps to which I am referring were part of a prize ( competition: pocket packet friday) from Kim Newberg on her Ning web community site, PDA. Anyway I have had these for some time and because of problems with MIL I had not gotten around to using them... and then along comes Margaret Fields MAMMA challenge on Flickr using recycled materials. This presented an opportunity to kill two birds with one stone. Voila, two atc's made from "recycled" materials and made my first art from my prize packages.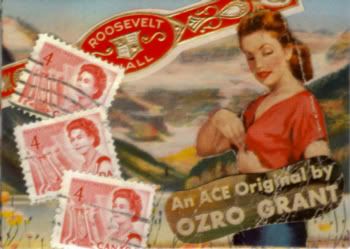 I called this, "Who is Ozro Grant". The main image came from the cover off an old paperback novel, by of course..... Ozro Grant. The background was a vintage postcard. The cigar label and the used postage stamps picked up on the red blouse to cmplete the card.


The second atc I entitled, "It's a Mystery". Again the main image was off the front of an old novel, the postage stamps again picked up on the red dress. The background for this was an order pad from West Side grocery store dating from the 1930's. The 25cent coupon check and a label from Pioneer Lemon Sour reflected the backing, What's the connection between the background and the lady? It's a mystery!

One more atc for this post, it is created using found magazine images. I am still not sure that I am happy using magazines as a source of images but now and again I see something which gies me an idea and I am off before stopping to consider the source, and then I think well why not! It is irrational but I am not totally happy.
This called "Love from Shropshire", an entry to a monthly lottery draw for a small private group. The theme was spring, I had been thinking how to go about an atc for this before I started reading this travel brochure. I saw the images especially the cheeky male statue and started putting ideas together. This is the result. Hope the recipient likes it.
Well it is raining hard outside here and just wondering what to do today.... maybe, get my crafting hat on and make more art - see you again.