Been a busy bee again, getting involved with an ATC chain swap and completed three new ATC's today. I can't help but feel that I have a very different approach to many of my ATC-swapping friends and although I love the cards that I get in return I find that unless I deliberately set out to copy a style that I like (the appproach, use of images and techniques) I always drift back to where I started from. I guess that everybody does to some extent but I worry about what seems to be a lack of progress.

for example: jazzy backgrounds... and why not? However my main technique, collage, seems to cover up most of the background so I end up positioning the images to show what is left (of the background) as well as with respect to other images.

Rubber stamping: may be because I have not got a large collection of stamps but I only seem to use them to fill empty spaces, sort of throw away images if you like.

And the themes I use are nearly always humerous; I have built up a collection of quotes which I feel would make for good subject matter but haven't used them , yet!

Anyway, peolple seem to like them so maybe I shouldn't worry. here are the new cards:-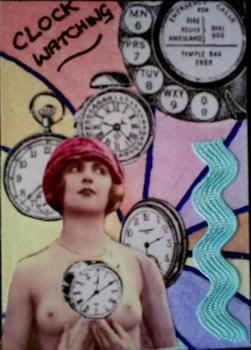 The first was going to be about waiting for a phone call, but as I searched for images to build up the picture, I went with the circles which were mostly clocks. Hence the title, "Clock Watching", I guess when you're waiting for a call, the time passes slowly (aka a watched pot never boils)' . Believe it or not the main figure was cosen because of the red hat..... it seemed to fit with the background colours.
This was one done with a backing paper I painted with acrylics, at the same time as the images I posted
here
. Again I chose the images because the shapes fitted together and made a pleasing composition. here is where I filled in the background with stamping. I found I had to leave this one for a good few days before I decided that it was complete and simply added the text to finish it. the busy background seemed to complete the overall picture.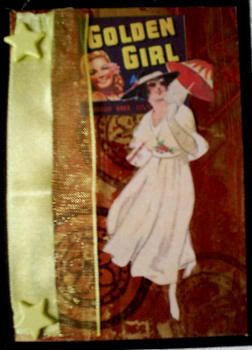 This last one was a strange one. I used the same background technique, painted acylic plus stamping and decided that the figure suited the background in terms of colour and shape. the advert was a late addition to complete the composition. However it still needed something and a search thro my box of bits came up with the ribbon which I fixed with brads of the same colour.
So there you have it my three latest art cards, do I have an inferiority complex with regard to my ATC work? Answers on a postcard please!