I am still collecting stuff for making ATC's, I bought a set of stamps on the theme of the ballet on Ebay; it arrived yesterday. I have also been learning and trying out some new techniques. Doodling seems to be all the rage as I mentioned in my last post. So what else but an ATC using these various elements on a watercolour background:-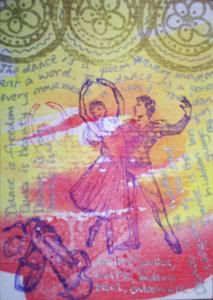 This has (the w/c background) with stamped images of the dancers and ballet shoes, more stamped images framimng the top to represent the stage curtain (don't know what it is called!) and hand written prose to bring it all together.
I may still colour in the dancers clothes to make them stand out a little more - looks fine in my hand but when I saw it on the screen I was tempted to increase the contrast as it looks washed out. but the colour seems a better idea.