Well ,I have done well! Starting to paint again after what seems soooo long. It's just like beginning afresh. After the watercolour skies workshop with my art group I have been worrying that I am finding it so difficult to paint what I consider a "good" picture. I am basically a landscape artist, although I have dabbled in all subjects, and this is what I want to be able to do again. I seem to have lost the knack of utilising the learned rules which help to make a painting interesting.

Here are three I finished last week, the first two are terrible and show just how much I have lost out by all this collaging. the third is passable and actually gave me a glimmer of renewed hope.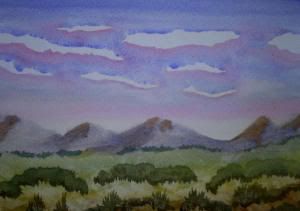 Untitled: still trying to get a decent sky, looks like a real beginners work. Not quite sure what is supposed to be happening in the foreground.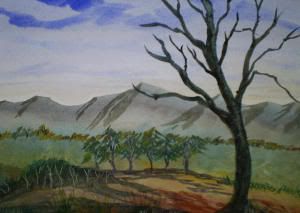 Untitled again. There are some things about this one which I actually quite like. BUT again what on earth is happening in the centre foreground? My only excuse is that I was still trying to paint skies and was not concentrating on the rest of the picture.
Now this one I am begginning to like. The reference picture that I was using actually had far more trees in it but I was quite pleased with the background so decided to stop. The only problem I have is that in trying to show the texture of the two large treetrunks, I have lightened them and left the more pair of distant trees far too dark. Of course in the reference they were in heavy shade but I have not allowed for this. Of course all is not lost as I can easily take out some of the tone fro these trees. But at least I am beginning to feel that my watercolour brushes will not have to be thrown away.
On a downer, I went to an Art Materials/Craft show at the National Exhibition Center (UK) and found myself buying lots of "crafty" items as well as art materials. Battle is about to commence!
Art or Craft?