Just back from a short stay in Bridgnorth, Shropshire. lots of new material for paintings, and will hopefully be able to show you these in the next couple of weeks (christmas preparations and my wife permitting). I was going to spend a few hours on Tuesday night sketching from some photos when we got back to the hotel room after dinner and a night out but it didn't quite work out. On the way back to the hotel we were congratulating the council workmen putting up the Christmas lights along the main road. The problem began when we got back to the room, Bang! someone had blacked out the entire town as far as we could see. Too much of a coincidence not to have been those same workmen. Well, at least we got to bed early that night.

My latest creation I am going to post here is another ATC. I have recently joined a group dedicated to expanding our artisitic horizons ( unfortunately small, private and with a waiting list). This does however mean in the field of "crafting " rather than painting but cross-fertilisation is to be hoped for. My first new techniques were heat embossing, great watching the little crystals take on a new appearance as they melt and merge into one another. Art -doodling seems to be a growing trend amongst those doing journaling at the moment and I have also been exposed to this. Both techniques have been put to use in this card:-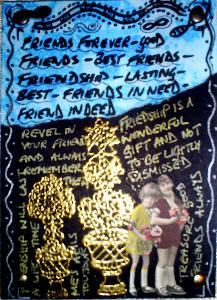 Hope you like it it was meant for a cyber-friend who I thought needed some cheering up!
See you soon with some paintings of Bridgnorth and its environs, cheers