Had a short break over the past few days and don't have very much art work to blog about. I did find myself at a loose end after dinner one night and opened a notepad and started doodling. This is the result:-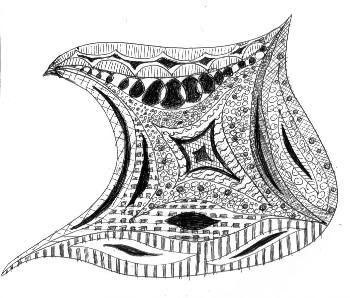 I did not have any particular thing in mind and as I filled in the outer shape I found myself thinking of a photograph I had recently seen in all the newspapers of a migration of ray fish. The idea wouldn't go away but I did not doodle to achieve a recognisable object. I did however use the image in deciding on a name, "Night Ray". Daft name, perhaps you can think of another? But if you want to see a
photo of such a migration check out these images
. I couldn't find the original on a quick search.
I have also put together a set of four faux postage stamps using the basic image offered by Lisa Vollrath, if this aspect of art/craft interests you a useful article can be found on
Lisa's Squidoo Lens on the subject of artistamps
. Anyway here is my set, made for the make it monday challenge this week.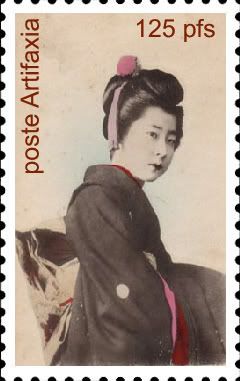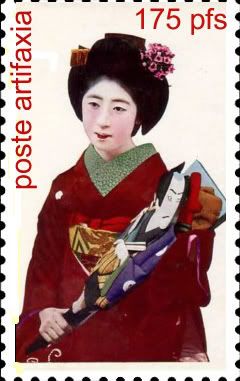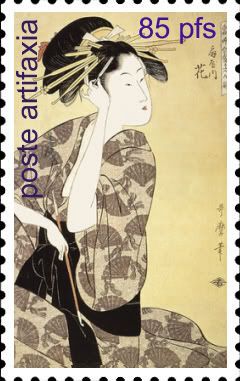 Not quite sure I have been "creative" in making these but the subject is not something that I have really had much to do with so far. But I have used the challenge to have another go with my digital painting software (this time photoplus) and try to keep my hand in before I forget everything I have learnt about using it to date.
I may seem to have been posting lots of links to Lisa Vollrath's sites recently as I have gotten involved in the Make it Mondays challenges. I can assure everyone that there is no connection (as-if LOL) but it has given me a great deal of inspiration thro' what has been a difficult time for me creatively after the death of my cousin, Kathleen. I know I promised in a recent post to list some of the challenges around the web, and I will be sorting this out soon. But for now, I have to report that one of my colleagues in a Yahoo art group has started a challenge blog, which I hope will be great fun.
Check out Margaret Fields (aka mop head) new challenge