Well , I reckon these two bring me up to date (except for today's new challenge of course) with the Make It Mondays series. I will be keeping up to date from now on.



Here is the first - the theme is flowers. This means gardens to me, being unromantic, and at the moment I am fighting a losing battle with hordes of the neighbours cats. It seems that I am the only idiot in the neighbourhood who actually turns the earth over in the garden! Of course the cats congregate overnight and do their little bit of digging to help. So my card shows a cat (never knew what to do with this moulding) amongst the flowers. 'Course I love the little b******s really.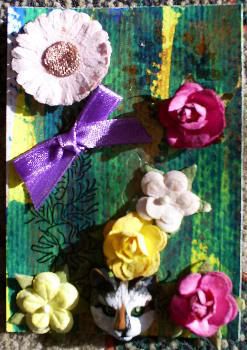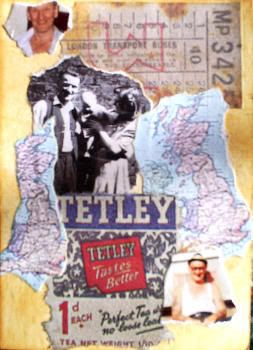 I interpreted this as where I came from. As this is mainly a US based group (????) I included a map of the UK (well two really, for balance) ; no need for more detail.... the London bus ticket and the advert for Tetley tea say a whole lot more, I think. I happened to have a couple of spare photos around in my pile of junk (stash?) and used these to make a more personal statement. The first (B&W) photo is of my parents and I soon after I was born, just a few years ago now. The other two small portraits show dad who always had a smile on his face and never let things get to him.

Got a couple of paintigs to post as well but am going to make those a separate posting - back soon.