Hi, pleased to report that I managed to sell the watercolour aceo, "Still waters" which I posted on here not long ago. this is the first one I have put up for sale on Ebay in several months and it has spurred me on to do another. This is also taken from a photograph of somewhere in Norfolk, UK .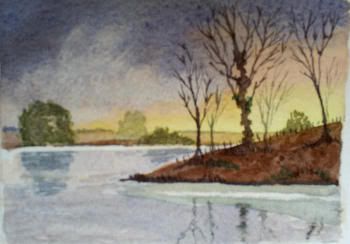 Again it was the colour of the sky which attracted me to this particular image and I hope I have captured the glow behind the trees. Not too sure about the reflections but at the moment I am just pleased to be using my watercolours again.
I did this whilst at the Tuesday evening meeting of my
art group
and finished with just a short time to spare and a pool of colours in my palette. Not being one to throw away the paint, I did the only thing possible and painted a very quick abstract. Again this was aceo size - I did say a few minutes.
I washed the whole paper with a weak wash of ultramarine to provide a wet background and then simply drew lines with the primary colours and allowed them to run. The last touch was the use of a stronger red (alizarin crimson) to add focal points. I did not like the dots as they were put down so ran a toothpick through them to join up the lines. ( I always keep a supply of picks in my tote box for scratching into wet areas!). I decided to call this one "ARRESTED DEVELOPMENT" as the lines reminded me of bars at a window.