It has been a little while since I posted any atc's on here, you could be forgiven for thinking that I had given up creating in this format. However of course, I could do no such thing, I not only enjoy creating the small art works but havae made so many friends over the net that I could no more contemplate stopping than of cutting off my right hand.

My latest series were for a swap challenge on Flickr, many of my friends will also be members of Maggies Monday Musings (MAMMA). This week the challenge theme ( set by Nancy )was anything to do with water. Well I had to do a little thinking for this one. Once I had my thoughts gathered I then spent quite a while gathering the elements I wante to use. I ended up with enough material for several cards but only entered three, or I might have been swapping with myself. The three entered were:-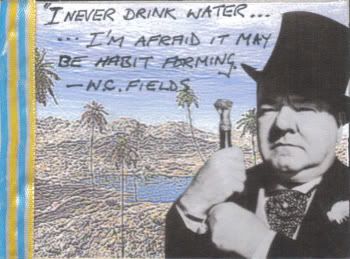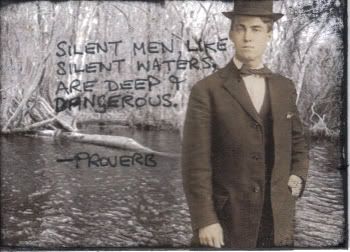 I found a number of WC Fields quotes on water which I liked and may well turn them into a series. Here is one which I made which I definitely do not like now that it is finished. But I post it here to remind me that not all cards turn how how you want them to.
I now feel that the background is far too busy for the subject and that the text does not stand out well enough. But that is why I called the blog, "the trials and tribulations ....etc". I am not upset by having to show the failures.
I also made one from a balsa wood boat in a frame which I was given, sorry can't remember the source, but my thanks to whoever it was. I find that filing bits and pieces is a difficult enough job and always mix up the little gifts losing track of where they came from. here is that atc:-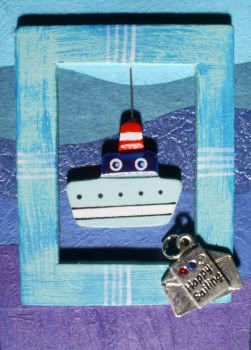 and finally for today's post, a postcard. I found in my altered book, and with other "larger" formats that the simplicity of my atc's is somewhat lost. I don't know wether it is because there is more working space available but I seem to get more elements on the larger formats compared to atc's. Here is the postcard, "Confuscious, he say........."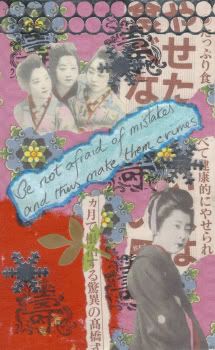 I also found a number of quotes from Confuscious, so there is another potential series in the pipeline. This was entered for a challenge on
Paper, Digital Art and Images by Kim
or PDA for short.
Maybe I will include a few more atc's in a midweek posting.....