Here is another strange hobby of mine. Well not one I do much these days my old bones don't take kindly to being asked to stretch for those luscious fruits at the top of bushes and trees.

Sandra and I have always enjoyed foraging / collecting wild fruits for our larder. We always had a supply of jams, chutneys and wine and beers on hand throughout the year. However as we grew older ( some would say wiser), we took to wandering around farm shops and markets for home made goodies to buy.

This year however, My tomato crop has been disatrous, the whole greenhouse had to be emptied because of rampaging blight in the plants. I tried to control it by removing the affected leaves but by the time I gave up the stalks were a very sad site and the fruits were beginning to rot anyway. It has been a ver6y wet year in the UK for the third summer in a row. Maybe that it the reason, or contaminated fertilizer in the "inexpensive" growing bags.

Anyway we decided that this year we would make use of the freebies growing in the wild around our house, being lucky enough to have open countryside within walking distance. yesterday we decided enough was enough. We have collected crab apples, blackberries, elderberries, sloes, plums, damsons. Some have already been turned into jams and jellies:-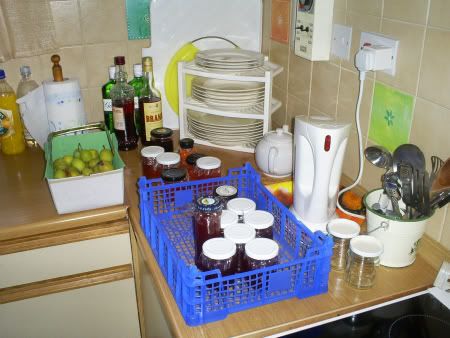 the plums will be converted into plum and cinnamon jam later today. (Did I say that Sandra does all the cooking, my job is the difficult to reach fruits and cleaning of them). BTW, the bottles at the back contain sloe gin - steadily maturing away. Great at Christmas.
Some of our crop has been frozen:-
and just a little eaten in pies and crumbles; thankfully no pictures, LOL
We seem to passed on this idea of food/drink for ree as our son, the one still at home, has been making wine, is latest is a batch of oak leaf wine. Just bottled from a crop of new leaves earlier this year. He also has an arty streak - notice the hand-made lables and the dripping wax seal on each bottle:-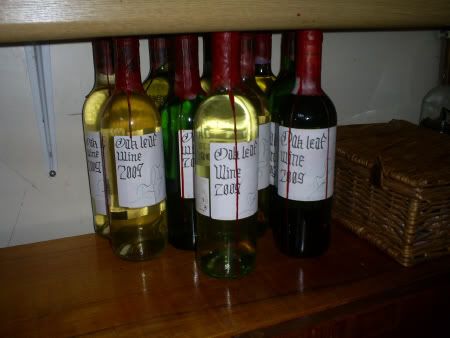 What a week, I ache all over but it is so satisfying especially when it comes to eating it. Blackberry jam on my toast this morning ... heaven.
more craftiness soon............