Hi again

I have a question for all you mixed media artists reading this blog. As a watercolourist ( primarily ) I will usually do several small, thumbnail sketches before I start on a full size painting. I have not done much painting lately, as you will know if you have been following my progress. However, because I enjoy sketching, I often use a sketch before collaging especially if I am working to a theme, etc for a challenge. If I have been inspired by an image then this is often an unnecessary step and does not lead to a sketch. But working to a sometimes obscure (?) theme, I find it very helpful to clarify ideas for images to select.



This is one time when I should have gone with the flow. I was doing an ATC for the Paper Digital Art and ImagesbyKim site on the theme of "Circles". I had one or two ideas off the top of my head but decided that my circles would be bubbles.... coming from the mouth of a fish! I very briefly sketched out an idea, using images of (fisher)men in the bubbles. I had a picture of a fish which I had cut out of a magazine and added to my collection of such things - rubbish my OH calls them - and decided that to add a little interest some seaweed would be just the job:-




You can see the text on the reverse of the paper showing thro' here, infact it almost adds a little texture, perhaps if I had added some more contrast to the scanned image? Anyway, I thought that this would be the way forward. BUT when push came to shove, I actually veered away from this sketch and came up with this:-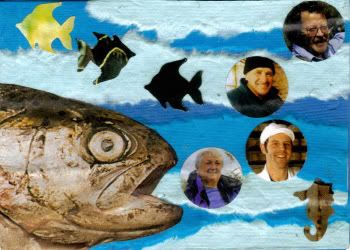 I don't know why but the seaweed had morphed into a number of die-cut "fishy" shapes. The sea was implied by using torn paper of different shades of blue. The bubbles were cut from images using a die cutter, which is why the other shapes were made in the same way. I was never quite happy with it, but as the challenge was nearly closing I went with it and submitted this ATC.
Now, I don't like unfinished business and I still had that sketch around my neck ( metaphorically of course) so I went to my Photoplus software and started thinking.... I scanned the ATC to retrieve the images, and started playing. I resisized and coloured the bubbles to give them coherence ( thanks for the suggestion
Nancy
), used a simple gradient fill to simulate the sea, and added a couple of images of seaweeds that I found by googling. Of course these also needed to have background removed and to be resized before I could use them. I left the image quite plain and simple. It certainly looks a lot cleaner than the physically collaged ATC above and I find it works quite well, what do you think.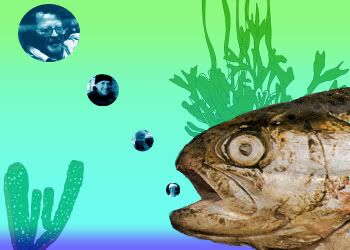 Oh, you have probably noticed that I reversed the way the fish was facing. probably doesn't matter but by now I was sticking to the original sketch more closely. Even if the sponge wasn't there in the first place! The sponge and weed were made transparent to move them into the background. Don't you just love digital enhancements, so very versatile?

And the question? Do you ever use sketching to develop ideas for collages?
And the title? Blowing bubbles... or.... Living and Breathing Fisherman.
See you next time...........