OK here are the two watercolour atc's which I mentioned in my last post. Difficult to believe that I have made four posts this week, but as I said in the first of these, last week was quite a prolific time for me. I was making atc's rather than surfing - or at least it seems like that was what happened. Well anyway, got to my art group meeting on Tuesday night and was determined to do some more watercolours. A little more involved than the last set although I am not sure that they have the naivity of that set. they are growing on me so I will let you see them anyway.


The first was a beachscene, really I was intending to do a skyscape but the cloud shadows did not turn out quite as I wanted them. But that is one of the problems with watercolour, and I haven't been doing much recently so control of the paint is a little haphazard. But a few rocks and a sandy beach seemed to have added a little and the couple walking their dog have managed to put the whole thing into perspective, I think. Whilst painting the figures I couldn't help thinking about the dog in
Constables "Haywain".
He is reputed to have painted the dog with five strokes of the brush, I don't think I have managed to copy him too badly, they look as if they could be distant figures to me, LOL.
See my gallery
for some more refined figures (beware they are unclothed - but in the best possible taste. And whilst there check out
the portrait galleries
, I really must cut down on the collaging and get down to some painting again.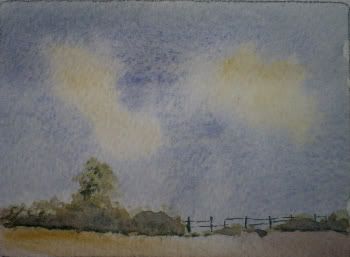 This is a very much more simple landscape. Running out of time - too much jaw-jaw and not enough painting - I quickly started another skyscape. Could have been a lot more aerial perspective in the sky to give the effect of the dome of the sky, but there you are; that is what happens when not concentrating. the line of the trees forming the field hedge and a little glimpse of the fencing give a point of focus to the landscape and finish off this little sketch. I am determined to do this every week now. Each week at my art group I intend to produce two or three paintings. Once I feel that I have found some of my old skill with the brushes I will vary this to do a few works in other media. One of my problems is that I do not focus enough on any one technique to really feel confident using any one medium. But hey ho, it's all grist to the mill - and I enjoy it; otherwise I wouldn't be doing it
Thanks for your perseverence and patience this week, back to normal next week.