here I am again, doing something different. Read an article in a very old art magazine which inspired me to do some semi-abstract watercolours at my art group last week. I chose to work in an atc format for two reasons. 1) I could get more paintings finished in the two hours I had available and 2) I do love this small art format. And I can also get to swap them if anybody is willing. I decided to just use a couple of colours for each painting with a touch of a third.


here are the results:-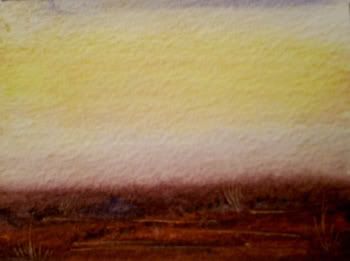 using cadmium yellow and a mix of red and burnt sienna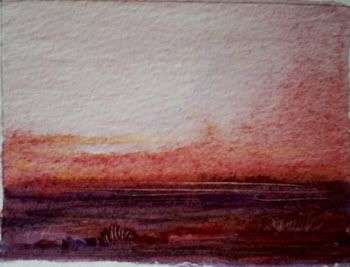 using alizarin crimson and ultramarine/burnt umber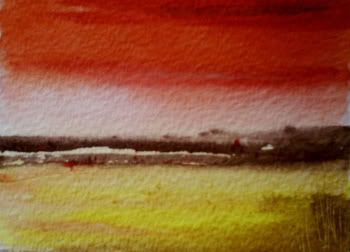 using cadmium red and cadmium yellow/lemon yellow
All the paintings were done wet into wet and the colours were arranged to represent a sky/foreground showing a level horizon. I worked into the nearly dry work with a cocktail stick to add a little extra detail for interest. You can see larger versions of these photos on my flickr photostream
http://www.flickr.com/photos/shadfan66/
.
Actually I was quite pleased with myself. Not only because I like the paintings but also because it has been so long since I used my watercolours. I think I am ready to try a larger format next week. I will let you know how it goes.
ADDENDUM: the artist concerned who inspired the above paintings with his article in the May 2006 issue of "The Artist" magazine was
Justin Cooke
. Check out his site there are some great paintings.