Right, I thought I would crack on with another posting. This time a couple of ATC's which I have created since returning from my hols. Couldn't keep off them for too long despite the long face and loud sighs from my wife.

The first is for MAMMA's challenge swap ( the theme this week is "the phonebook"). Margaret keeps coming up with themes which on the face of it are quite simple but, they seem to provide more challenges than your average challenge theme. Or is it just me? Anyway, I came to this one late in the day due to last weeks holiday so didn't have too much time to think about it. I looked at the entrie so far and felt that a background from the phonebook would make a nice simple start. So far so good - look up a page with refernces to artists. Now.... I hit a snag. I find that where the background has some significance, I hesitate to cover it up. I stamped an image of a lady as a first step (simply because it was a new stamp!) but had difficulty following this up. Probably because she does not really have anything to do with either the phone book or artists on the face of it. So think..... and think again, maybe she was a model? I idly picked up a circle die cutter, and started browsing images.... the idea of the facial elements just popped into my head and hey presto. The title came as a follow up. Not what I had intended but hey, I go where the muse takes me.


Title:-Behind every great artist there is a great artists' model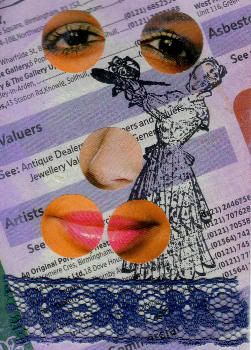 Right, number two. Now A good on-line friend and colleague has put together a collection of tutorials which she started for a
private group on Yahoo
, but has now made public via the "
Six Inch Square" club
on Flickr. I have tried to keep up with these and learn the techniques and incorporate them into my art work, but I really am following behind at a snails pace. Some time ago she posted a
tutorial on using ADT (aluminium duct tape)
to givea metal effect on atc's, etc. having only recently aquired some of the said tape, I was determined to have a go. Of course being me I didn't do as I was told but got the general idea and started playing around. I also had a set of templates from
Dan
(see the side bar) for his "wonky" houses. I layered some tape onto one of these templates and cut it out with a scalple, so far so good. I had in mind
Lisa Vollraths latest MIM challenge ( door and windows)
and so started searching for images to go behind the window. A small image of a lady was selected, and after a little souls searching and a failure to come across a suitable male picture (snappy dresser/prince even) I found this image of the boy - and just the right size to use too. The title "Someday my prince will come " was in mind but as I said above, when it feels right, go for it (well almost - in so many words anyway). I wrote the title at the RHS as a filler and to finish it all off. The background, BTW, was off the
collage image group on Flickr
- I must learn to take the originating artists name, for reference.