Shucks this is even more embarrasing than the pictures of my workspace, I feel my artistic integrity has been compromised.



My good friend Margaret field on her Flickr group MAMMA, set a challenge for this week with the theme of KAWAII ! Most of the entrants had to google this term before even beginning and there was consternation in the ranks when we found out what it was all about. The accepted translation from the Japanese is CUTE! But it seems to be a concept that has taken over the psyche of the Japanese population, entertainment media and industry. It is one big movement. Anyway I went for cute and found some material to use. made my atc's ( always like to use my material up)and posted in the challenge site. despite my misgivings I am showing them here for your perusal. Hoping that you will not fall into the same trap.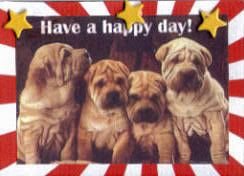 Have a happy day!


The atc is very simple, an rectangular image has been layered to the Japanese naval ensign to form the edging. The text was already on the image and I simply added three brads in the shape of stars to finish off the design. Is this cute or what?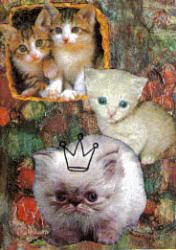 Pussies Galore (with apologies to the late author Ian Flemming)


Aaahhhh.... we all like cats, don't we? Unless like me you are a keen gardener with cats for neighbours! These three images were collaged on to a background from the collage image group on Flickr to give a pleasing composition and the big one was crowned by stamping.
Take my photo Mamma san!


Giving a nod to the japanese style (anime?) images I put together this little scene. A couple of stampings and die-cut hearts used to complete the card.


Hoping to get back to reality next week, oh my aching head!