Just treading water again really. I have already added these to my Flickr photostream . But I thought that I would try to keep up the momentum here on the old blog.

I have been playing with making backgrounds from torn up, collaged tissue paper. I have seen similar techniques in tutorials from several places including Margaret Field in her blog Mop Heads Unite. I did several using complementary colours, the first two here using red and green and black.


Oh It's You!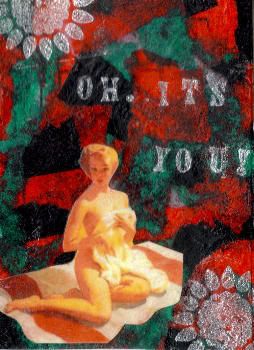 A nice and simple atc, using just one of the backgrounds and a downloaded picture (must keep records of where I get these from). I completed it by stamping the title and a couple of flowers (?) in silver. As an afterthought decided that I should have embossed these but embossing is not a thing I do regularly even now. Judging by other ATC's I see on the net I should make a point of using it more often. It would certainly have made these stampings stand out more.

SEEDS DO GROW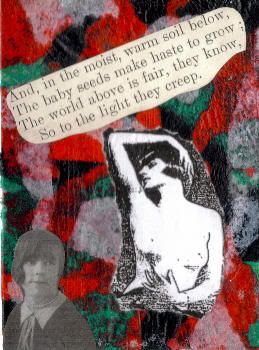 The text here is from a little old poetry book by Margaret Broughton, I believe. and I originally intended to use this and the lady on the right on their own. But I was mooching thro' my box of off-cuts and came across the other photo (which was actually of an aunt from the 1920's). I thought it fitted well.; the contrast between the two images and an underlying meaning in the text. I think the real contrast in the printed images also amplified this theme.


UNTITLED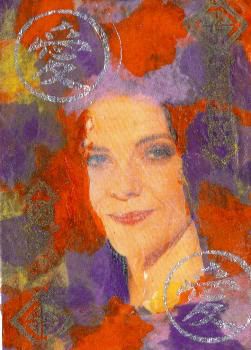 I have put a title on the
Flickr post
which I think reflects the wry smile on her face, but I have not really settled on a title. Here, the absence of embossing is a real drag. The silver stampings are just about visible but the gold ones (bottom left and top right) are nearly invisible on the screen. they show up much better in real life. I must strat to think about the use of eembossing whenever I stamp, rather than wishing that I had done it when it is too late. Or perhaps I shhould buy some of these pens designed for embossing, which would allow for such afterthoughts.


Anyway, the image was transferred from a magazine picture using an acrylic medium. I paint the medium onto both surfaces and rub them together and allow to dry before wetting the back of the picture and rubbing off the paper. The glaze on the card seems to protect it from getting wet. This system seems to work quite well for me, the images have quite a matte, aged appearance. The transferred image was done first here and then the background was added using the tissue paper again. I hoped it would look like the face was peering thro' a hole in the background. Not honestly sure that it works that way.


Off to make a couple of challenge cards now.................