Just been playing around with some acrylic texture paste which I bought to use on my watercolours about 12-15 months ago. Never really used it at all - another waste of money. However, I have started to experiment with it on some ATC's and wanted to post this as it is one of the first using this material. Called The Chines Girl (- LOL my titles are as creative as my ATC's)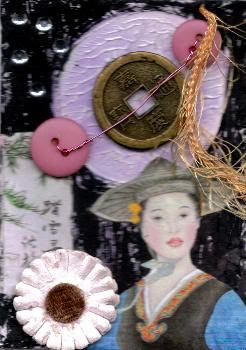 The photo is a little soft (focus) as I scanned it and the 3-D elements lifted the image of the girl off the glass. I heavily layered the ATC backing with the paste - about 1-1.5 mm thick and before it dried imprinted a large circle with a rubber stamp. the paste was too soft to leave an impression of the stamp but gave a wonderful texture reminiscent of 'artex' ceiling effects. I coloured the whole piece with a lilac paint and then painted outside the circle with black acrylic which left some of the background due to the heavy texture to give a great effect.
I had a couple of chinese coins which I felt matched the circle, so decided to use the image of the chinese girl and a little chinese text. The faux gems, buttons, wire, wool and fabric flower were all chosen to complement the colours and composition.
All in all I think I like this one, it is a little busy compared to my usual style but seems to work. The texture paste did not after all play a significant part in the final design but the textured circle directly led to the whole coming together.