As promised here is a further batch of the ATC's that I have made over the past week or so. As I said in the last post, creating these is a wonderful way to relax and forget the troubles which seem to be ganging up on me and my familly. Hope you like them.



Another digital ATC, this one made for the Make It Mondays challenge with a theme of "Masks". I have tried with this one to rein in the amount of images which I have been putting into my digital cards. Just because I can does not in my opinion mean that I should, hope you agree. Sometimes simple is best, and certainly sufficient. This background is from the Flickr collage images group (
Stars*Go*Blue
), and the japanese actors from the same Flickr group (
Wackystuff
)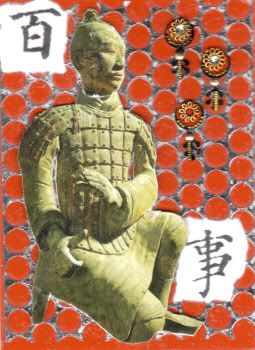 Here I used a plain red card, layered with scrap from sequin manufacture, or at least that is what I think that the silver foil with the holes in actually is. the image of the clay warrior is a found magazine image and the embellishments were bought at a local Charity shop. I believe that they are Indian.




Another simple collage, Don't know why I used french text for the collaged background, but it is. The red card with black text is actually stamped and was a piece of offcut from another project (rule #1: never throw anything away). the image was again a found magazine image and I used aluminium duct tape, ADT, to frame the card. Final touch was the lines of indentations around the inner edge of the ADT.


I found this background image ( the nose and lips) in an advertisement and immediately thought, " I have to use that". It struck me right away. I found the eyes and added them and then.... well I also had the dancers on hand and they sort of fitted in but I added the balloon and text to add a little humour. Don't tell me I have a quirky sense of humour - everyone does.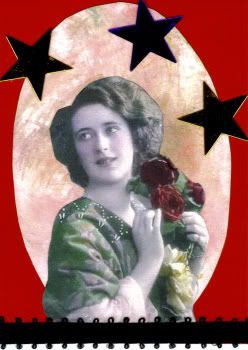 Now this is really down to simple.
Nancy
, thanks for the oval. I had the red card handy and it fitted so well with the oval scrap that I felt I had to use it. The colour of the flowers in the image sort of confirmed that I should use this, so down it went. What now? I added a little black ribbon ( also a gift ) and then the stars. they are gold and purple, metallic stars but the scan has not captured their "relecting appearance". I often photograph atc's with this sort of embellishment, but for some reason it got lumped together with the rest of the days output, sounds as if I have a production line!!!! maybe I will photgaph it and replace it at some stage, but don't hold your breath.
More atc's soon....