Just a quick post to put up two more ATC's from the Make it Mondays challenge. I am really enjoying this, It seems to give me something to work for. Too often I find myself browsing blogs and group forums and I find myself wondering wether it is a form of procrastination. trying to be different with each card is not easy, but the challenges certainly help. I have been determined to catch up on past themes so I have not taken several other challenges but one of these days I will post a list of challenges for every day of the week. Of course, I don't gurantee to meet them all, a guy has to have a real life (or so my wife keeps telling me ).

The first is called, "Lost Time Is........."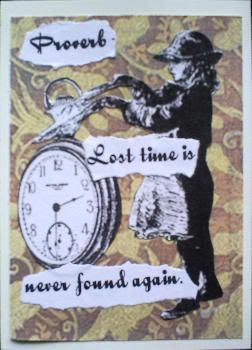 They are both very simple collages. Start with a thick card base, choose a backing paper ( I think these are both courtesy of
Dover Publications
), select a couple of complementary images and a quote based on the theme of "time passing". A couple of strokes with the glue stick and bob's your uncle, as we say in the UK. Of course there was actually a lot of positioning and repositioning before the application of the adhesive. It often takes me considerable time to lay out the images before the final step is taken. have I got enough or do I need some more? Will it be too busy? I actually like my ATC's to be unbusy, if that's an english word.


The second ATC is called, "To Choose Time.........."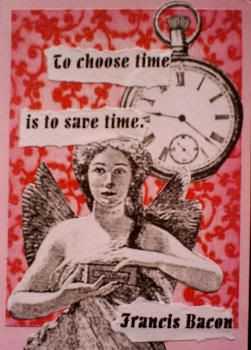 OK that's me done for today, I can go and surf the net having done my quota and without feeling guilty.