Hi again, well after yesterday's post my wife decided that we should go out for the day (well it was nearly lunchtime when we went out) and enjoy the wonderful "spring" sunshine. It has been completely untypical of the weather over the past couple of days and the sun has been shining since Saturday. We ended up at a favourite spot (nice walk and a convenient cafe at the end) near Redditch, the Arrow VAlley Country Park).

As it was the first day of half-term you can imagine the number of kids and their moms, and a surprising number of dads who had had the same thought as us. Luckily most of them were enjoying the kids playground and we didn't see too many on our walk. I took my camera and have posted three shots here which I think bring out the unseasonal weather very well.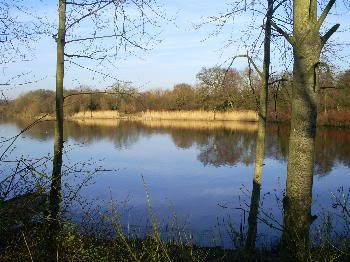 Look at that sky - early February and not a cloud in sight! the walk goes around a large lake which is inhabited by loads of ducks, swans, geese, coots and other waterfowl - not forgetting the seagulls swooping over it. In this phot at one end of the lake, where it narrows drastically I seem to have got away without many of the birds in the shot.
Another shot across the lake with just a few of the inhabitants preening themselves.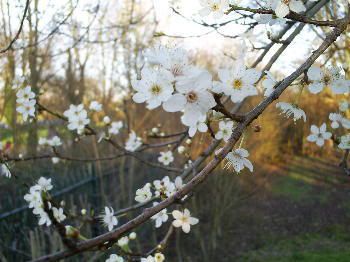 The most amazing thing about the weather recently is the effect it is having on the plants. they seem to be flowering out of season. I have a Jasmin in my backgarden which has been in full flower since last November... and you probably know it is a spring flowering shrub, expected to blossom march -april. I am not sure what this tree is but I can't believe it should be flowering in February.