I mentioned recently that I had some hopes of converting some of my art group to ATC's. We had our AGM (boring stuff mostly) last night and we discussed what we call our special evenings for 2008. These are really workshops led by one or other of us and I managed to get them to agree to do a collage evening. We will be doing one or more ATC's and swapping them at the end of the evening. HA! there will be a few converts I am sure.

The group has been going thro' a hard time recently and we had dropped to about 6-7 members (difficult to tell if a person has dropped out when we rarely see him :-) but last night I counted 13 heads. We have had quite a successful membership drive. Just hope that they will stay and not be frightened off by "daft collaging workshops". Because of the number of new members we have also decided not to hold a large exhibition this year but to introduce them to the idea gradually by holding a few local (in the library) exhibitions.

Completed an ATC using one of the acrylic backgrounds, this one was in yellows/browns. Bit of a hodge-podge really. I don't think my mind was really on it, but I post it here as I like to show my failures as well as the successes.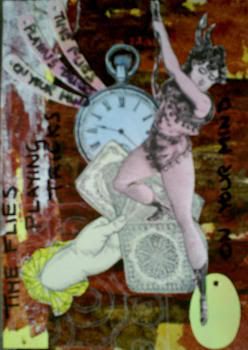 I seem to have increased my posting rate recently, don't know if I can keep this up, but I seem to have been doing lots of crafting. 'Till next time..........