hi, not been too creative over the weekend and felt a need to make some sort of posting. So I am going to show you a couple of reworked ATC's which I did a litle while ago. The originals were crafted using new stamps which I had aquired onto a random watercolour backing using a wet-into-wet technique. I was a little new to stamping and I thought after they had been around for a while that the main images did not stand out enough - no pizzaz.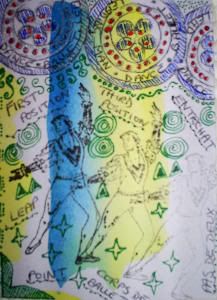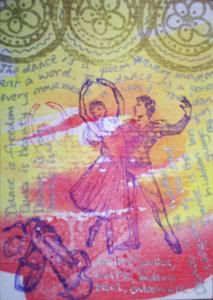 No problem - I found out that it was permissible to colour in stamped images, and why not? So here are two of these cards reworked to add clarity and emphasis to the images.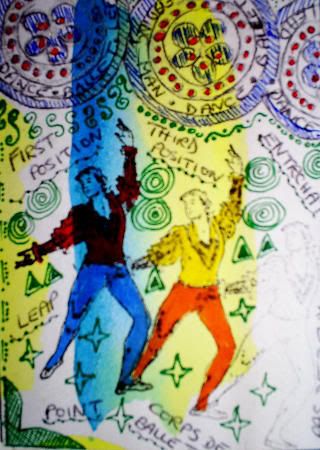 The third stamping is still too indistinct - and after seeing it on the screen like this I am now going back in for a third time to give it a pale wash. the multiple images were intened to convey movement but using different colours has taken this sense of action away, I feel. Still it's all about learning isn't it, and next time I try to convey this feeling I will attempt to do better, using lighter washes of the same colour so as to fade the 2nd and 3rd images into the background.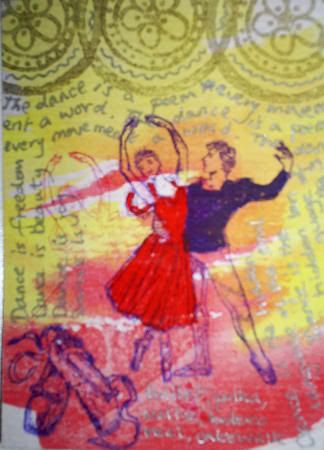 This image used metallic gel pens for the doodling (prose) and the stamped image across the top was done with a gold colouring. It does not show up too well under the conditions used to take the photo. Again the "after image" may be too weak now that the main image is filled with the watercolour wash?
But they certainly have more of that missing pizzaz, don't you think?
Off now to do a bit of crafting while I have a chance, hope to be posting new work in a couple of days - hope to see you back here, John