Hi, its late and I have spent a glorious day in the garden, getting quite a lot done and it is now looking good. Note to myself.... must post a photo or two! Anyway, I have just discovered the Make it Monday challenge on the Go Make Something site (Lisa Vollrath). I actually came across it 3 or 4 weeks ago and did a digital image of Desperate Dan. I decided this weekend to start doing the challenge every week and thought as a first step I would catch up with the last three weeks. I have done so and wanted to get them on to the blog this evening, its time for a new post anyway.
Here they are, I actually found this to be quite difficult because I usually work from whatever I find which gets my creative juices running. So it was a real challenge. I may not have made three "great" works of art but it was fun and I think it taught me something.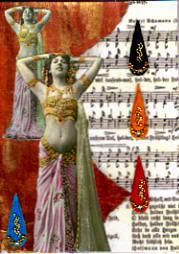 The first was to do something with the theme of music. I found this difficult since I did not have the right images to hand but turned it around slightly (artist's licence) to become a card around Dance.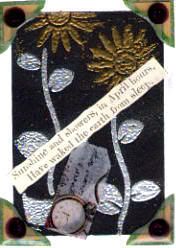 The second was to use a quotation... I again took a slight liberty and used the first two lines of a poem by Margaret Houghton. the main imagaes were heat embossed, a very new technique for me so it was a little bit of practice.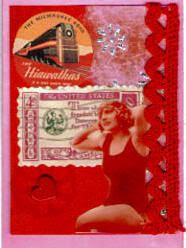 The last here is based on the colour RED. I call this holiday dreams. One of the reasons that I was keen to do all three was that I have been tasked with the job of writing about my ideas on the subject of the use of themes in ATC ( or any art). We tend to use the word loosely and although the above are said to be based on themes, I am more concerned with a theme within the art work. But that is for a future post. For now I hope you enjoy the images.