Hi, don't know if any regular readers ( assuming of course that I do have regular readers) have noticed but my ATC cards seem to be becoming prettier. This has not been a conscious decision and I am not necessarily upset by it, but I though it worth a mention. I can't help feeling this may be because I have been making a few greeting cards. My wife sees the opportunity to send some of her friends individually crafted cards and of course not knowing what they actually would like I guess they tend to be fairly conventional. When I first started making ATC's they were often humorous, but looking thru my back postings I find that there was a definite prettiness there too.


I guess that over the past few months (?) I have been more concerned with technique (and I have tried and learned the use of a lot of techniques) and maybe my style has drifted because of that. There are lots more of course that I want to try, and have today ordered a copy of Bernie Berlins book Artist Trading Cards Workshop: Create, Collect, Swap from Amazon.


Anyway, here are three more ATC's which I have completed this weekend, they have already been swapped and posted.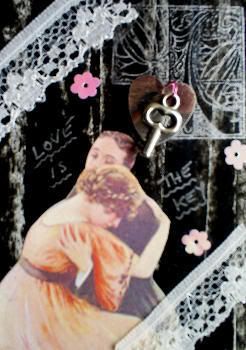 The first is titled, "Love is the key". You may remember the
painted backings
, which I posted a little while ago. the key is fixed loosely to the heart with coloured wire ( I was given a box with 24 reels for last Christmas and have hardly used them at all so far) everything is glued down.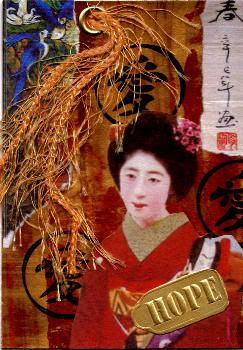 Titled, "Hope" after the embossed text. Another acrylic backing with stamped chinese characters (I actually bought a black Stazon ink-pad for doing this), the card is completed with collage and a fancy thread attached via an eyelet.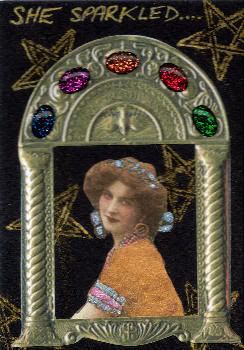 Finally, "She Sparkled". A collage onto black card, stamped with gold stars (not Stazon,LOL). I painted the dress, armband and hair ribbon with mica-containing watercolours which is where I got the title from. I finished it with those faux gems across the arch and wrote on the title.


Many of my crafting friends would be commenting on a lack of "grunge" - well Tim Holtz may yet get my custom, but for now "enough is enough".
Oh I nearly forgot..... the second card in
the last post
was entered by me into a weekly lottery challenge in a group I have just joined and declared the winner (sorry I left off the title, but it is the one with the smiling sun), the challenge was to use circles, ribbon and faces. I am now looking forward to receiving lots of lovely ATC cards thru the post.