hi, still playing with bits of paper..............

I really must get back to painting, I need at least 6-8 for an exhibition in early september and time is marching on. HOWEVER, here are just another small batch of altered art ACEO's. Then I really must forget about these until I have dented the target for the exhibition.

These are slightly different in that I have used some recent photographs as the background - I assume that is within the rules :-) I have again used downloaded vintage images which I have tinted with watercolour. The text/prose is this time hand-written and hopefully will be found amusing.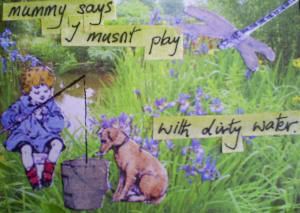 there are two more to complete the collection, which I will post later ( I need to photograph them )
Cheers , John