Hi, I am a member of the ACEO UK Group on Ebay which is trying to promote aceo's in various ways. One of these is to post video show-reels of members work on YouTube. Number 1 was very well accepted and now the producer for the group is calling for more work on the theme of flying. I am normally a landscape painter, I suppose that I could have bent the rules and came up with something but I decided to paint a couple of aceo's specially for this video. The outcome is startling, I should not have bothered. It is so difficult to get the faces right at this small scale (2.5 X 3.5 inches). But like a fool, I include them in this post for your perusal.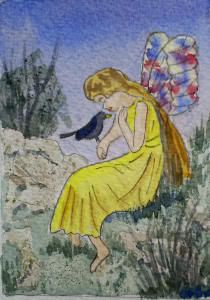 If I am going to list these for sale I will have to do a repair job and try to get better proportioned faces.
Thanks for reading this, cheers for now.