Well I have done, sold my first aceo painting on ebay.com, this was something of a trial since I have always listed on the UK site prior to this. As you may, or may not know, UK listings no longer appear on the USA site unless you specifically select to search WORLDWIDE. A number of UK based artists are now listing on Ebay.com to assess the impact on their sales.

My painting, an impressionistic view of Stonehenge sold for the princely sum of $13 (approx £6.48) to a UK buyer. Here it is for your delectation:-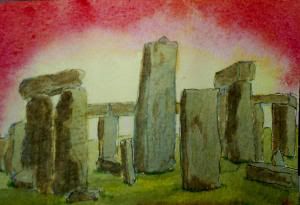 It was painted from several sketches I made recently whilst on holiday in Salisbury, very close to Stonehenge.
The real reason for this post was to share my entries for July's ACEO UK themeweek competition. The subject (voted for by the participants was : 'In The Geenhouse'. Well my usual subjects are loose landscapes in an impressionistic style so this competition is very difficult for me at the best of times. I scouted around on the internet for a couple of subjects and found two which I have personally visited. The first is the pool, in the tropical glasshouse at Birmingham Botanical Gardens which has a massive waterlily planting, here is my interpretation:-
I did actually do another after this first attempt hoping to have learned from it, but of course under time pressure I found that I liked the first after all. Because it is indoors the water is so still and the refections of the roof and surrounding plants are seen clearly (well, if you use your imagination).
The second, is a plant that astounded experts at the Eden Project. Five years old, the Titan Arum one of the world's largest and smelliest flowers bloomed in the rain forest biome over a period of 13 days. Its height was reported at 5 feet 4 inches, all flower. Many hardy visitors were said to have braved the aroma to catch a glimpse of this rare event, even standing around the plant whilst the specialists lectured on it. Here it is, in all (?) its glory:-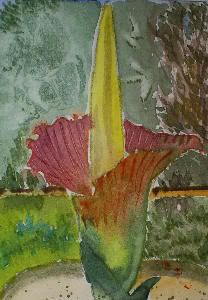 What a whopper! Wish me luck folks, although there is a lot of opposition and I am not expecting too much.