I am excited.......... I read about a ( to me anyway)new technique in this month's issue of Leisure Painter, which I still read every now and then. It was an article by Lynda White, suggesting using collage (rather than drawing) to loosen up your style. Well since I have what can only be described as a loose style, and I have been collaging for the past 2 years ( is it really that long?) I decided to give it a go. At least it wold get me away from the 2.5x3.5 inch format, which I seem to have been stuck in for so long.

I had a selection of cheap canvasses, which I have bought and never used (???) so I dug out some 24 x 16 inch jobbies and got down and dirty, literally. I was using an acylic based glaze to adhere the images to the canvas and had trouble getting it off my fingers. Don't ask why it was on my fingers! The first painting was really an experiment, but the more I looked at it across the room (especially as the light changed and the texture was shown up) the more I loved it.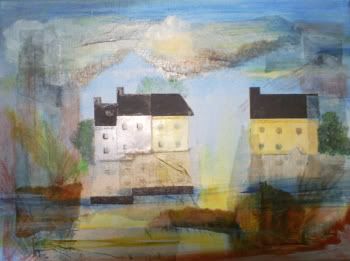 You can find a larger version on my Flickr photostream at
http://www.flickr.com/photos/shadfan66/3306891617/
it really does deserve to be viewed full screen. I love the colours and the light effects in this painting, although the clouds leave a lot to be desired. But the tension created by the multiple focus points moves your eyes across the image from the yellow building on the right to the negative space above the other group of buildings and the red "boat-shape" with the yellowish explosion of colour. I could write a book on the way I feel about this composition. It breaks a number of rules but I think that it works out very well on the whole. It is almost like several different paintings but it hangs together because of the overall blue colour. I painted the whole canvas blue after the collage to get rid of the horrid white of the canvas and I believe it has worked to my advantage.
The second painting,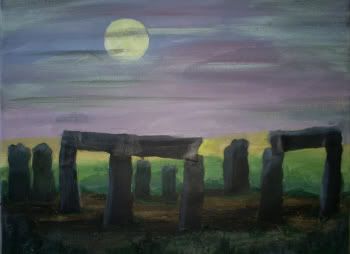 is also one which I have come to be very fond of. I took a few photos whilst I was painting it and have turned these into a video tutorial which I have posted onto You tube. You can see it here:-
http://www.youtube.com/watch?v=gqLTSBsuz_s
I have also added a lens to my Squiddo portfolio (LOL) which adds a little more detail than is possible in the video, view it here http://www.squidoo.com/painting_over_collage