OK... here as promised ( now don't start groaning) are a few interesting photos and one you can take with a pinch of salt.

We decided after we had booked the UK holiday at Gunton Hall and the weather turned out to be so bad this summer (??) that as MIL was now safely esconced in a residential home and it was our 40th anniversary, that we would treat ourselves We therefore booked a second holiday in Lanzarote. It was in a hotel in Playa Blanca that we had popped into last year and found to be the very epitome of plush. Called the Princess Yaiza Suite Hotel it claimed to be built to the highest standards and boy did we agree with them . A fantastic ( highly-priced) holiday to pamper ourselves.

The two things which stood out for me were the "jungle" in the reception area. Running water filled the streams and paths around the area contained seating areas where residents could rest and enjoy the scenery.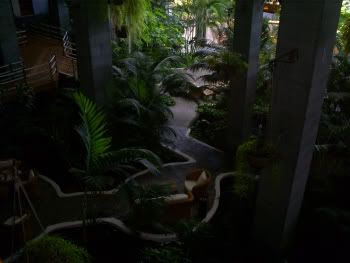 The rooms were of course superb. The size of our room was larger than the ground floor area of our semi-detached, which is itself not a small property. usually even the best of hotels has chairs/seating/etc, but this one in what was the base specification room ( couldn't go too mad) had a kitchenette, a dining area and a sitting/TV area plus a large walk-in wardrobe. certainly got our moneys worth. The maid came in during the late afternoon to turn-down the bed and each night left choclates and a note wishing, "good night". Fine... but on one night my better half had left her nightdress on top of the ded and the maid folded it in an incredibly novel way,
This simply left us bemused at the level of detail/service. Of course the food in the restaurants, all seven of them, was fantastic, we enjoyed the jazz club on site, and the rest of the entertainment in the bars/etc. I have never had such service from every aspect of the hotel and its staff. An incredible holiday. The rear entrance to the hotel opened directly onto the beach and I simply had to take a night-time view and have included a day-time view for comparison.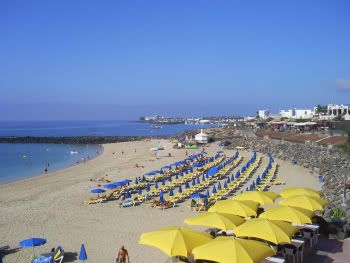 And of course, those who were reading this blog last year will know that I enjoy the sea, so here I am horsing around in the clear,blue, calm-as-a-millpond water.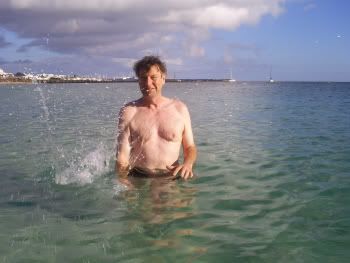 We did of course hire a car and visit several of the tourist sites, including this year the
Cesar Manrique Fundation
and Teguise, where we found (well one of us did and it wasn't me) some fantastic local craft shops where we parted with more of the hard-earned.
All-in-all a fantastic holiday and one we would love to do again but may have to think hard about it. More crafting/art in my next post.