OK well here I go with some holiday snaps, not many and I hope that they entertain rather than bore you. Our first break was a trip to Gunton Hall, Lowestoft. This is a Warner Holiday Resort Hotel. Bit of a holiday camp for older people really as there are no kids allowed; if truth be known, this is what probably attracted us. At the start of the year the weathermen promised us a "barbecue summer" and with MIL worrying us, I was keen not to go too far away so that we could easily return home if necessary. Anyway, I hate the airport "thing" when going on holiday and felt it would save all the hassle this year. We have been used to going for one week so as not to be away for too long, so it seemed a good idea.

Despite the ensuing, awful weather thru the summer, we actually had a very good week as you can see in a couple of the photos. The first is a view from our chalet, across the golf course ( aka putting green).

The second is of the main complex with its indoor swimming pool and leisure centre a view from the lakeside.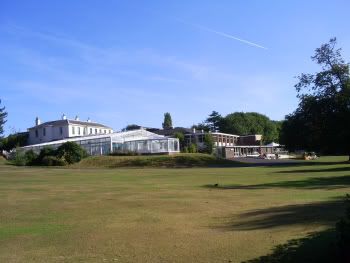 We had a lovely little chalet with a private patio and on one day a dragon fly ( I think) must have popped over from the nearby lake to pay us a visit.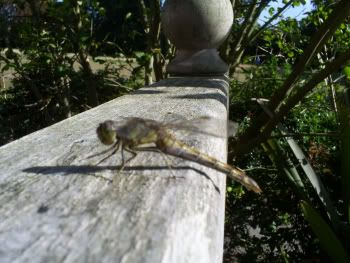 The nearest beach was only a few minutes walk away but nothing too grand. A very quiet, somewhat pebbly beach, with ( so I am told) a nudist area a little way further down. Never did see anybody except fishermen there tho, was a little too late in the year for swimming and the schools were open after the summer holidays. Even the local amusement park only opened at the weekend. About the only thing of note were the old, weatherbeaten groynes. Oh and a small wind generator farm visible up the coast at
Great Yarmouth
.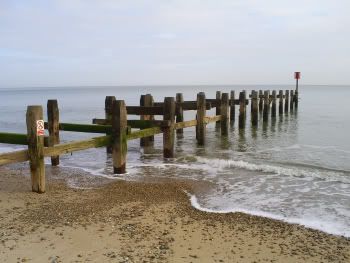 Anyway, we had a great break... we really only used the hotel as a feeding/sleeping station and explored the coastal villages as we had not visited this part of the UK before. Also the Hotel had nightly entertainment but as it late in the season, we did not think that this was up to much, but it helped to pass a little time in the evenings after dinner. My next post will show a couple of photos from the other holiday - this time in Lanzarote - see you soon.