And now for something completely different... (organ plays !!!) Are you old enough to remember Monty Python?

I have created my first real assemblage. Not that it is that out of the ordinary but it marks a schism with 2-D art for me. I have been contemplating this art form for some time and collecting bits of rubbish ( err!!! art materials) for some time including all manner of receptacles from the kitchen and around the house. I have recently been joining in with challenges on PDF and a recent challenge was on the theme of mermaids. Now all media are welcome ( says Kim, who runs the site) so being in a peculiar mood I decided that the time had come for a 3-D piece, an assemblage in other words. Here is my entry: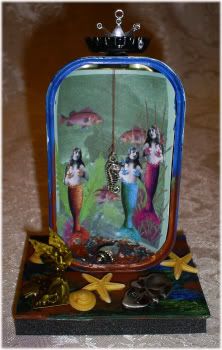 It is such a big step for me that I thought it was worth a few close-ups and some descriptive narrative. Now the thing about mermaids is that they live in the sea just like sardines.... a very tenuous comparison but it got me searching for an old sarding can I had in my "studio". A humerous gesture.... oh well, take it or leave it. It works for me!
Now it is difficult to see the bits and pieces properly, which is why the detail shots are called for ; unfortunately for me, whilst in creative mode, I did not spot the gap which had opened up at the top of the backing to the collage, inside the can. A little bit of restorative work required her - methinks!
Anyway, the details: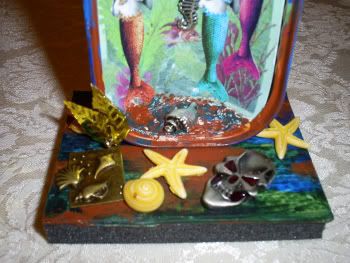 The sardine can was riveted to a piece of mountboard which was itself bonded to a rigid, black foam to give it a decent thickness. The top of the base was painted with acrylic paint and a number of bits and pieces were bonded to it. Sea bed detritus.... the skull mask was nearly lost as my son tried to purloin it, he has a thing about pirates (?) I did actually have some real shells but they didn't seem to fit so a metal charm shaped like a conch shell was fixed on the inside of the can .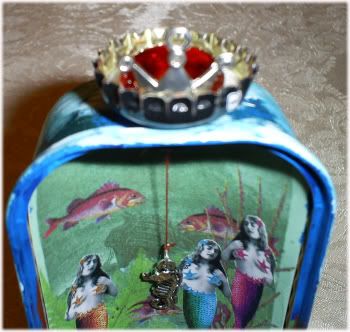 At the top the crowning glory. A beer bottle top, a 2-D charm in the shape of a crown bonded to the inside front edge, and a fairly large glass bead made up quite a realistic assembly.



A detail of the panorama inside the can. The background is a digital collage, see my Flickr photo for photo credits with three mermaids layered on to the collage. Actually you can see a full screen sized image on Flickr - much better resolution, much better image. The seahorse is dangling from the top of the can, on a cotton thread.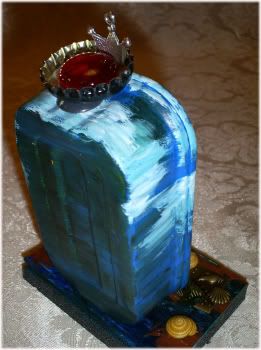 Here again is the crown and the rear of the can which is also painted in acrylic.
Lastly a shot of the digital collage, the elements inclue a beached wreck, fish and sea-weeds: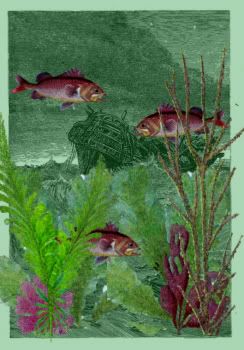 This has definitely given me a taste for more of the same so look out world, here I come. And I already have a little fellow who will be the main element in my next assemblage project so watch this space. ( you will have to wait for any more info, LOL)