It has been a busy week, can't seem to get into crafting as much I would like these days but I do what I can. Real life obviously has to come first. However I have managed to complete two collage pieces, the first an atc for the Artful Ideas group swap on Flickr. The theme this week was "a bar code". Can you believe we had to use an image of the ubiquitous bar code device in a work of art. OOHHH Nancy you were being cruel on this one. Most people so far seem to have used it for its pattern/textural effect, there have been some very clever means adapted - why not pop over and take a look. However I decided to use it literally; but with a twist. here is the atc :-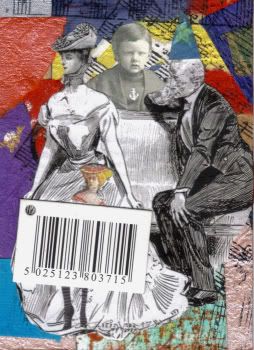 I called it, " Mmmm, I see Lady Barr! This magical cypher will be appearing in all the smartest retail establishments. But tell me again, what does it do?" I love using humour in my atc's. I am a great fan of all forms of this format but my own work, as I hope you have noticed, depends on humour in many ways.
The second work I bring you this week is a post card sized collage made for the "
Collage Play with Crowabout
" group, also on Flickr. In this group a collage sheet is provided to use and create an art work either digitally or by cutting and glueing. Yoou must use a minimum of three elements from the sheet in the art work. Here is my effort:-
I actually found this a very difficult sheet to work from this week, don't know why but I had some real headaches - a real challenge. In desperation I used a technique that has worked for me in the past. MINIMISE either the time or the material. Just start cutting and sticking and see where it takes me, a process using lots of serendipity. I am actually pleased with the way this one has worked out, I think?
This particular challenge I am finding very enjoyable because the elements on the given sheet are so different to the sort of thing that I would (collect and) use if I was left to my own devices. I would go for large, simple images and often have a use in mind as I am collecting them or at least some idea of how I might put them to use. I guess this is how I made my altered book,
which I blogged here
; taking lots of left-overs and putting them to use.
BTW I have started posting photos on Flickr from some old, pre-1922 books putting them into the public domain; why not take a peek?
Off to do a little crafting now, see you in a few days with the results hopefully.