Well here we are again, I have simply not been posting as I ought. Lots of things going on at home and keeping me busy. I have been creating - quite a creative time for me actually, I must thrive under the pressure. However I am hoping to be able to post regularly from now. I shall do a very quick catch-up of some projects since my last post.

What have I been up to....

First, there is my ongoing commitment to the ladies of the ARTFUL IDEAS Group on Flickr. A wonderfully talented group of artists taking a fornightly challenge to create mixed media ATC's. If this is your thing then give the group a once over. A couple of my recent entries have been:-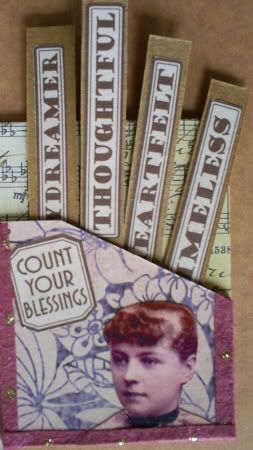 Both created for a challenge with a theme of pockets. Another challenge I have started is with the group on
Flickr, Collage Play with Crowabout
. A collage sheet is provided every week for members to use to produce a collage, digital or cut-n-glue, which is then can then be entered for a small prize ( which I won last week). Examples of the work for this group are:-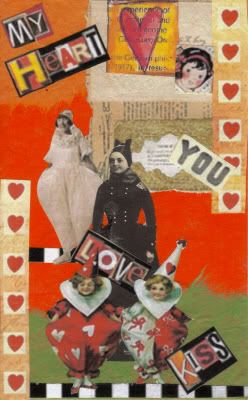 The above is a cut and paste collaged post card, simple background and using the supplied elemnts to complete the piece.-
A digital collage, I used virtually all of the elements in this weeks collage sheet, but also a texture from the hands ( and PC ) of Ange (
known as rubyblossom
) on Flickr. Not very evidenet but helps to offset the sharpness of the background element here.
I have also been getting more tied up with a newish group/community website run by
Kim Newberg on Ning
. ( link to be included). This group runs atc swaps, row house and charm swaps
and a variety of challenges. Something for most everyone in fact.
some creations for this group lately have been:-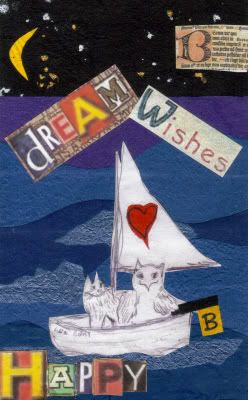 A collaged postcard, the owl & pussycat sketch were borrowed from
jerseybarb8
5, I thought they looked real cute. And just the thing for my "B for Boat" piece
.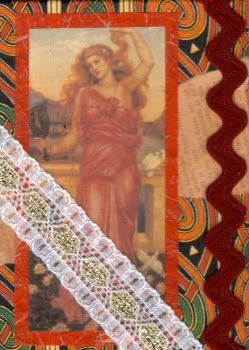 An ATC created for a "Lace and Finery" challenge,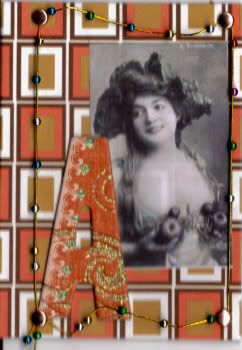 And an ATC with the title "A for apples" - cheeky, what?
Just to round off this catch-up session, here is an example of another pastel painting which I have made at my weekly art group meeting: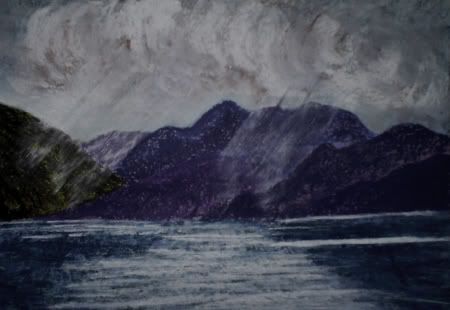 It is a version of a photograph I came across of Glen Coe, Scotland. I think it was the beams of sunlight breaking thru the clouds which caught my eye.