As promised in my last post I have a few atc's made using the distressed papers.




The Fruitful Grape
the first and second cards are made using images supplied by
Kim for use in this challenge
I hope to be making more atc's with these images and papers. By the way these are up for swapping, the easiest way is to visit my
Flickr photostream
or e-mail me.

"Les Paysans"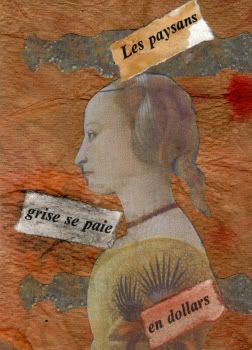 This third card was made for a challenge swap in the NI group on Yahoo (so is not available for trade) I have had the images around since a "sixties" themed challenge on
MAMMA
, I felt that they fitted the colour of the coffee stained paper so very well. A little bit of stamping and some stamped text completed this nicely: I call this Two-by-Two


Now for two cards made for the challenge by Kim, we were supposed to use rusty nails, paper clips, and a whole list of recycled/found objects which had gone rusty. Most of the rusty items I found in my garage were too large for an ATC so I ended up using the nails. maybe next time........
In My World, Accidents Happen



In My World, The Door of My Life Is Nailed Shut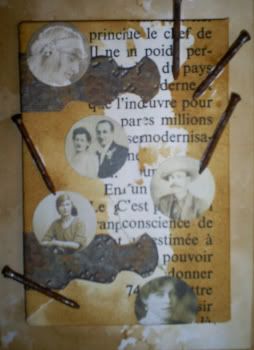 I was not happy with the first of these and so gave it this title when I decided not to throw it away. I felt the second was much better. Just a case of getting used to using 3-dimensional objects. previously I had only used items like this when they had at least one flat side to stick them down. These are also available for swap - see above.
I really enjoyed making these papers and boy do they small good. I shall hopefully be doing a lot more with these in the future.