Well christmas seems to come around quicker every year. My postings have been a little sparse over the past few weeks, mostly because I have not had much time for crafting/artwork. However I have a couple of new digital collage images to share, these have been created using Serif Photoplus 8. May not be the industry standard but it is more than sufficient for my needs - and I believe it is free to download. (If you want the latest gizmos then Photoplus 11 costs around £29)




I call the first one, "The Angels Watched Over her". All the main images are from Kim Neuberg ( from membership of a new site called
PaperDigitalArt or PDA
), the angel and the stork are free samples from
Dover Publishing
. techniques I have used are cutting by using free drawing of selection shapes, flipping, resizing, colour changes and simply pasting into different layers so that the shapes could be arranged into a pleasing composition. NO clever stuff here, although I would love to spend some time trying to learn some of the technically more complex stuff.
The text was added from wordart via a screenshot. Although photoplus has text facilities, I haven't found a way to curve the text.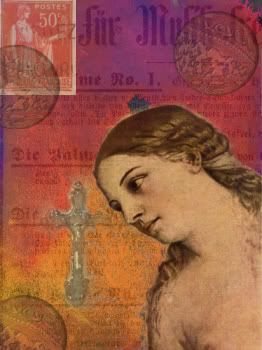 This second work is called Ecstacy. the title was arrived at fairly late in the day and was really about the cross rather than the look on the face of the image of the women. Again the main image is from Kim and the same techniques were used. I have been asked about the french stamp (especially as the text is german ) , can't say it has any meaning but it seemed to fit and was available.
OK then, having bought you up todate with my artwork, I would like to wish all my friends a very happy christmas and a prosperous new year. I will be back after christmas. (MIL is coming to stay and we will all be too busy to make time for sitting at the PC) HO HO HO!