Although I haven't been doing much crafting ove the holidays, I haven't been absolutely free of art. I started to play a little with the Serif Photoplus software and found out that I do indeed like using it. I started using it to draft potential collages and then I found that I liked the images that I was creating, went on to do more and forgot to print out the images and stick them down. Wow, I need to decide wether I am going to carry on with this new toy. If I do I am going to have to spend a lot more time with it, learning to use the great potential within it for art work.

the collages here have been created by cutting, resizing and/or altering the colours, pasting (using the layer tools to enable repositioning) and changing transparency, etc of the images to get a composition which represents the ideas I have been working towards. All very basic and simple but It does create great results. Of course like any collage the final image will depend to a considerable extent on the images used. I will reference the sources alongside the images.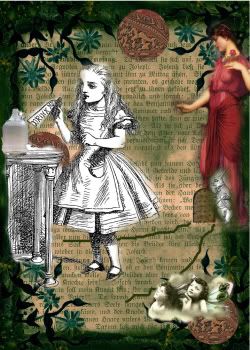 I call this first one, " Drink it, it won't hurt you". The background image is from
Kim Newberg
and so is the female renaissance figure, the "door" and the roundel. Alice the white rabbit and the angels are from
Dover Publications samples
.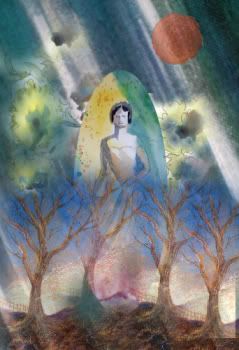 This one is called "Dreamtime" , all the images are cut from my own artwork. The background is acrylic, the trees and the sun are pastels, the figure and the flowers are from watercolour paintings.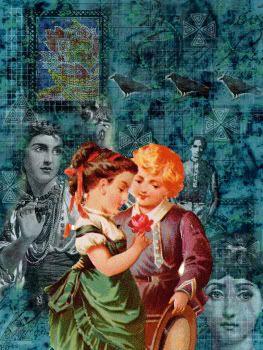 the last one is calle "Beware True Love". The background is from
Stars*go*blue on Flickr
and all the other images are from
Dover samples
.
I can see myself doing a lot more of this type of work in the future. It will not take over completely however, because I enjoy swapping ATC's too much to back away from that now.