Can't seem to get away from these. It is so easy to sit down at the keyboard and start creating art. No messy adhesives or having to cut out images with scissors and then finding that it is the wrong size or colour; or could it be just a little less contrasty to merge with the background? AND no more moaning from my OH (bless her) because of the mess I am having to clear up afterwards.

Digital collages are here to stay ( well for me at any rate). I do have a worry however! I have made so many friends over the past 18 months due to swapping atc's and will have to make sure that I do not forget this important part of this wonderful hobby that I have fallen into. In fact if you are someone who swaps, would you consider accepting a "one-off" digitally created image. In other words a very limited edition print, which has been layered to thick card for longevity, and should it be on glossy or matte paper? I would love to hear your opinions.

Here are my latest creations:-




The first I call, "My Valentine". I actually painted this background myself (digitally , of course) and altered it by using a mixture of effects available in the software. The couple and the cross are from collage sheets by
Kim Newberg
and the butterflies downloaded from
Dover Publications free samples
. It was made with a challenge swap in mind on
Kims group
, however I decided to make a cut and paste atc in the end; chickened out, I suppose you could say.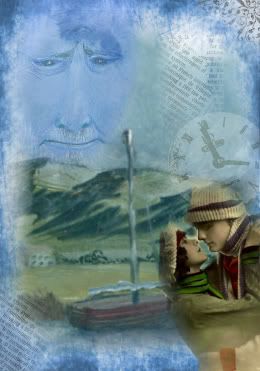 This second collage I call "Memories". the background is an old oil painting sketch from wayback and I have also incorporated a graphite portrait of my own. The couple are again from Kim Newberg. There are a few other images ( source unknown) which were downloaded from the web as free to use.
As I said I am enjoying ceating these digital collages but I would be really pleased to hear your views of swapping prints as ATC's.