Well after going on about my digital collages and how they might be perceived, I decided to actually get stuck ( no pun intended) in and make a few good-old fashioned collages. With MAMMA starting up again and the NI group lottery entry due, I had the perfect excuse. And so the following pieces were created:-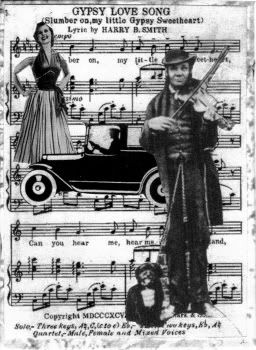 The first was my entry for MAMMA (theme of man or men), I called it "Gypsy Love Song", what else. As I said on my Flickr page, music, cars and women are alluded to here and I didn't forget man's best friend. A simple cut out and stick down piece, I have kept to a black and white colour scheme as the image of the man was one I wanted to use and it was B&W.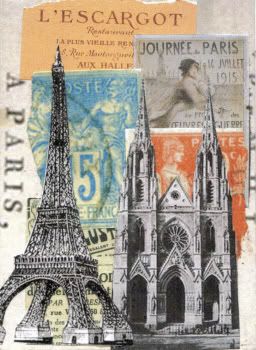 The second is another cut out and glue piece. I decided to not include any girls/women as these invariably crop up when the theme is Paris. This was for this month's NI group lottery. I looked at the Eiffel Tower and wanted to use something else, and thought that the double towers of Notre Dame ( I think this is right?) complemented the tower perfectly. What else to use? Well the background was a page of french text ( you can see the word PARIS and little else) and I found a couple of posters and the french stamps. They all seemed to fit well and left me with the muted colour scheme. I was happy with this.
The last gave me the opoortunity to use some textile material which I have had around for some time. I bought about a dozen pieces from a craft shop bin, and have never used them - do you find you collect lots of stuff and wait ages to use it?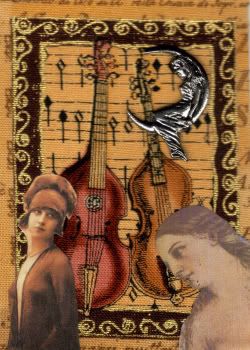 The images were two I had handy which seemed to fit in with the general colour scheme, and the lady in the moon was a charm which again I had handy. It does pay to collect stuff. ANy way, I called this " just wait till the bass kicks in". It looked to me as if they were enjoying the music, and I wanted to add a little humour.
Mmmm, colour and humour; seems to define many of my ATC's. Hope you like these, I am off now to make a set of a dozen cards- each bearing the first name of its intended recipient. Its different! Will post these when they are all ready.