Well I have been learning how to distress papers ( of all sorts) to use in my atc's. I know you can buy all sorts of expensive ink pads etc but if it comes free its "gotta be a great idea".

Recently joined a site run by Kim Neuberg who I came across on Flickr, looks like this will be a favourite source of images and information. One of the first workshop/tutorials was how to distress papers using simple ingredients found in the kitchen. of course I had heard about using coffee (for example) and even read about other ways of achieving that so important "distressed" look, however Kim takes us thru the process step by step and offers lots of photos and guidance so that it is easy to reproduce the effects.

I went for the coffee and food colouring (with a little vanilla essence for the smell), and here is an example of some of the results.



This first photo shows the kitchen tissue I had used for clearing up as I went along, lovely texture crying out to be used in an atc. The coffe was perhaps a little strong on this first attempt but it does smell great. The red colouring used is evident here....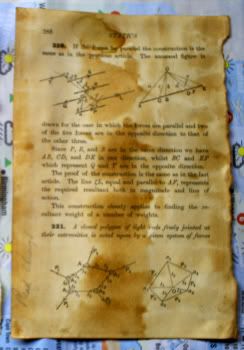 The next three sheets are all taken from various books I have collected to use for my atc's. Above photos show a maths text book and a copy of the Rubiyat of Omar Khayam. Just for your edification (LOL).

slight difference here, I added a feature which I have seen used in watercolour art work. A scattering of salt - which tends to dry up the liquid in the immediate vicinity and creates a great texture.
My next post will show one or two atc's using the papers shown above.