I was reminded of this technique with this weeks challenge on Make It Mondays, it is a great way of using up some of the piles of scrap and off-cuts that all paper crafters collect in copious quantities. So without further ado, let me show you some atc's I created using backgrounds made using this technique.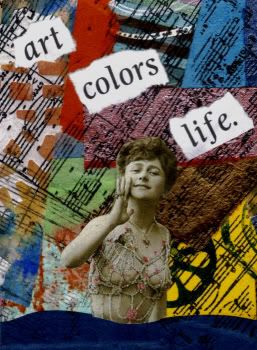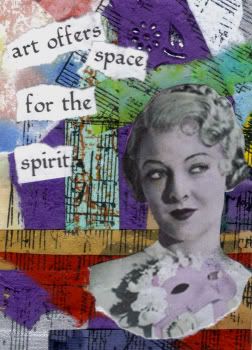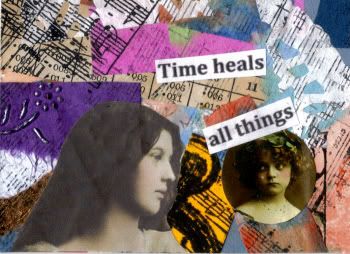 The titles are contained in the text on the cards. They are all mostly quite simple compositions, looking a little more complex because of the nature of the background. I used all sorts of bits and pieces; scraps, off-cuts, test stampings, bits of watercolours, glossy papers and text. When the collage ( actually 10 X 10 inch) was dry I stamped a musical stave across it several times to unify the overall look. I then turned it over and cut out a number of atc sized cards from it almost at random. This gave me 7 backgrounds and a few odd bits to cut up as embellishments. See my
Flickr photostream
for photos of the backgrounds before any further work.
Whilst on I was on the trail of scraps I of course found several images that I had put to one side to use "in the future". I decided that the future had arrived and the next two atc's are the result. A bit of a mixture but I hope that the themes come across. The first is entitled, "A Paris" and the second is entitled, "Couples".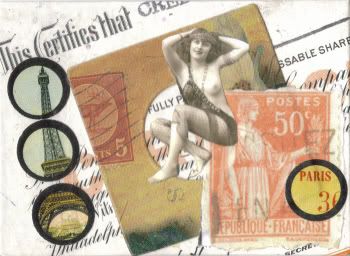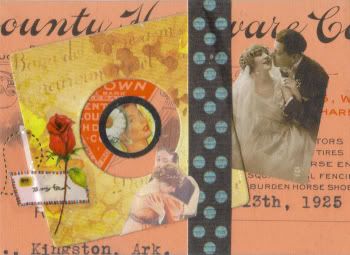 Hope that these work for you, I rather like them both. See you next time....