Well moving the follower gadget seems to have done the job - I can at least get into blogger! However I seem to have lost the habit of posting here.

Just as a catch-up I will post a few recent art pieces over the next few posts to try and get back into that habit. In this post it is the turn of digital collages. I sem to have been on the computer again just recently, not least because my art room is in the roof space of our house and in the spell of hot weather it has been impossible to use it for any length of time. My PC is in a much cooler and more comfortable area.

Anyway here are a couple of digital collages for you (well three to be precise):



Title: Honor, fate, forever love
A digital collage made using Photoplus ( version 8 is free). Images from a number of sources. The background from a collage sheet, I bought (LOL) from etsy. The warriors and the LH lady are from Dover, the RH lady may have been from art-e-zine. Oriental alphabet characters from Flickr courtesy of (
artsyfartsyqueen on Flickr
). The diagonal edging (?) is also from Dover. Various swirls and shapes created by me as brushes in Photoplus. ..... Busy, but I like it!


Title: Lucy in the sky with diamonds
A fun collage created for a themed challenge on
PDA
.


Title: My Lady, I feel a presence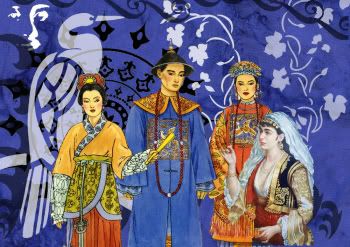 A digital collage; most of the images are from the free Dover sampler, the gypsy (RHS) is from
Suzee Que
and the background from
PDA

BTW if you can't see it the title refers to the image of a face in the top LH corner, LOL
More to come in the next few posts, when I can hopefully get back to normal with my use of Blogger for recording my successes and failures with art.
A quick addition to the post: I did this from a collection of images which I selected for a collage sheet on
PDA
, I called it an "
autumn collage
", after the colours which were the theme of the sheet.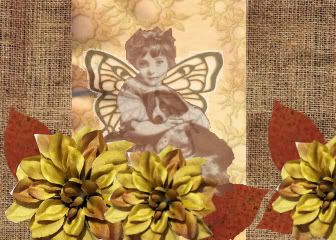 Well that's it. Up to date with my digital work. And this time I am sure. See you next time.