OK this is the second of my catch-up posts (will be one more for paintings), this time I am posting a number of atc collages. Beside the point but I have just looked out of my window - it is p***ing down. After a few days of incredibly hot sun, the weather has turned, with a vengeance. But that shouldn't affect my typing so here goes.....


Title: A trouble shared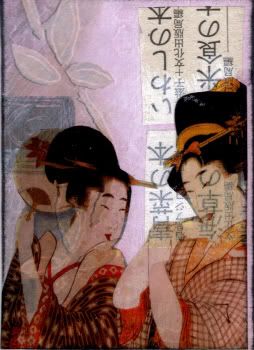 Created for the MAMMA swap on Flickr, the theme was to use the distressed gesso technique as demonstrated by
Berni Berlin
in her
atc workshop book
. I gessoed over the backgroun and then added a little oriental text, which was also
slightly gessoed.
The main image was printed onto acetate.
A fairly simple atc. I used a polyester material for the background, sealed it with an acrylic sealant and then layered the main image onto the card. The musical staves were stamped with a white ink.
Both of the above cards were created from ephemera sent by kind friends with traded cards and also ephemera won in competitions on
PDA/Kim Newberg's Ning network

Title: Me and my shadow
Stamped and cut-out images on multi layered background, again using bits of ephemera referred to above; gold circles stamped with wine cork - which just happened to be available, honest..... LOL
Just realised that I may need another post to bring myself right up to date with collaged atc's, lots to show which I have been creating whilst being blocked from my blog with this damned IE8 issue. Again I have to admit that putting the follower gadget towards the bottom of the page seems to have done the trick but It does feel as if it is the wrong place.
See you soon....