This week at my art group I painted a number of aceo paintings where I set out to play a hard line image against a soft background.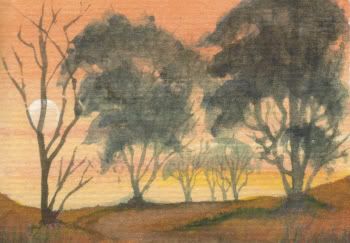 This one, "moon thru trees" is very similar to the sunset series that I have been doing over the past couple of weeks. Not a lot to say really but I am quite satisfied with the recession of the foliaged trees.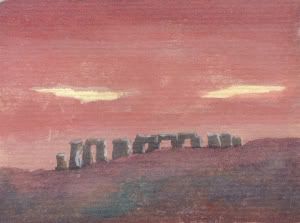 "Distant Henge" Another based on Stonehenge, my son ( a bit of a new age freak) has bagged this for his bedroom wall. I have to say that I am very pleased with this one. As it is aceo/atc size it was quite difficult to paint the stones. But I do like the colour and the way it blends in the foreground.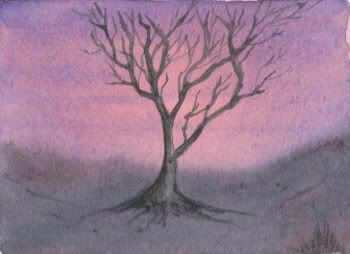 "Lonely Tree" Back to trees - but I am really pleased with this one, it does seem to have a 3-dimensional appearance which I am pleased with.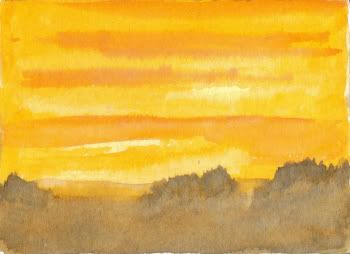 "Yellow Sunset" As it turned out I rather liked the hard and soft edges that developed here - giving a sort of misty appearance, so I decided not to proceed with any further image and let it stand on its own.
Secondly for today, I am posting a digitally altered image which I have used for a "story" which I am writing for a challenge on
PDA
. Not sure if you can read it as a non-member ( although registration is free) but I have been quite carried away with this challenge and am surging ahead of the official time plan (?). I might even publish the travelogue/journal I am producing as a blog in its own right. I will have to see how long I can keep up the interest. But the story certainly offers scope for many images of life in a made-up land I have called Tristolaria. the characters and history arae giving me a lot of cause for thought. Anyway, here is the national hero, Anktu Robircha.... A water-damaged photo which had originally been used as the central image on the countries highest denomination currency note.
See you all again soon.