OK this is the second set of collaged pages from my very first altered book project. You have probably seen the first set in the last post. I will assume that you have read the intro there, but I will repeat the size. These are all 7inch by 6.5 inch sized pages. My friend Nancy suggested that the larger size was liberating; may be true but I am used to the straightjacket of atc format.





The first one is the third page in the book, I left it out of yesterdays because I was not happy with it and wanted to get in what I considered to be some better work. I think this is the reason why I changed tack; Too many unrelated bits and pieces here to be interesting - too busy. Not my style at all. The handwritten text is again a title that came to me as I was sticking items down on the page. I had a couple of stamped images of the 20's lady in a cloche hat ( I think that is what they are called) and the three sillouettes. I noticed that the two groups were opposed, looking different ways. The title fell out of that. Otherwise just lots of scraps, not happy with the composition - just kept adding things ( mostly the circular shapes) to try and improve it but eventually gave up.

Now here, I decided to use a set of magazine images of Buddy that I had collected. he was (is!!) one of my musical icons. Competent collage but does not light my fire! Elvis just added a touch of contrast.
This one I like, much more in my established style. The clincher for me was the use of the wired leaves which really framed the imasge of the young lady. background is watercolour paper.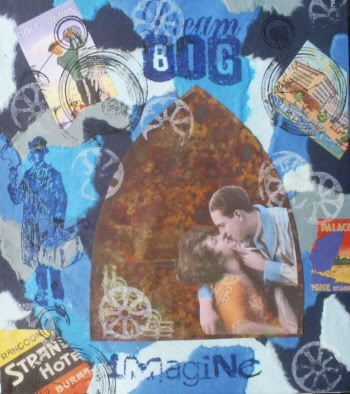 Another blue theme. I have used the pocket watch stamp and the wheel stamp many times before but they helped to bring unity to the composition. The vintage gent with pipe and case is to me the one who is Dreaming BIG, maybe it is different for you. I can only imagine what the storey ia behind this collage.
A strange one this - I took a load of stuff to my art group and spread it out on a long bench to select the images used here. My water-colour painting colleagues were amazed but actually said very little. A little out of their depth, picture postcards are their usual inspiration. This is another I really like.
More next time, only ten pages to go.