Still got quite a few coolaged pages from my very first altered book project to upload. If you haven't seen them yet, scroll back over the last couple of posts to get the gist and catch up.

Actually I have been a lttle while getting around to this because over the past week my wife and I ( ooer mrs! sounds quite regal, LOL) have just celebrated our ruby wedding anniversary - 40 years) and we have had a week of celebratory dinners and days out. We have booked a very expensive holiday ( of a lifetime?) for later in the year but this week we have had separate meals out with members of our families rather than having a massive party. This has meant less time for posting. However, the decks are now cleared so here goes with the third set of pages.



title: In Every Crowd....."
A fairly straightforward collage with a colour theme of green. The central geisha (?) is wearing red which contrasts nicely with the overall colour scheme and is reflected in the edging at the left and lower edges. The mesh was added at top right in order to balance the four figures. The stamped curly "bits" were added as an afterthought to fill the open spaces. I was actually quite pleased with this collage and liked it even more after making marks with a wax crayon under the main images. Seems to hold things together somehow.

title: " Aspire"

Ah, now. The lady with the wings was actually intended to be on an atc, however I never did like thte hand-drawn background. Foe this piece I gave it a couple of coats of white paint to knock back the colours and added the lacey edging to offset its appearance, did it work? The other ladies and dress were added together with a few stamps and ribbons and sparkly bits. The background was stained yellow tissue.

title: " Behind every successful man......"

I had an idea to use the vintage share certificate ( the background ) and develop a pun on bankers, after all the issues with the credit crunch. However it didn't quite work out and from bankers to engineers, hence the text on pulleys, and to "successful" men and their women. I must have women on the brain, LOL. I have used this lower, central character before on atc's, I think he is great.

title: " The purpose of art"

Here the background is an old scrap book backing sheet, with a leaves /autumn theme. I started searching for images whicyh would match the colour scheme and came across some images of paintings / an old poster and the couple. I added a book cover and Bob's your uncle.

title: "Girls love to party"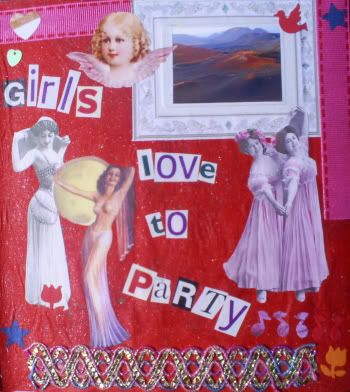 Not a lot to say about this one, fairly straight forward collage again. It does have an eclectic mix of images however.
Another old scrap book backing paper used here, the central image is an old playing card. Most of the text came from a collage sheet from which I took the three ladies in the arched windows. I added the stars for a little extra interest.
Just five more pages to go, will try to find the links for some of the images used in this post. Most are downloaded with just one or two donated from fellow artists.