I always said that I had been addicted to ACEO's since stumbling upon them by accident whilst browsing on ebay.

I decide to research them more fully and started putting together a series Squidoo Lenses, which some of you may have been good enough to visit (in the process earning a few dollars for the Squidoo charity fund). Whilst putting this research together I was taken with the concept of collaging and started to experiment with one or two ideas, which I have mostly posted in this blog. This has in turn led me further away from my starting point into the realms of paper crafting. I am finding that there is much more to this than meets the eye. At one level it is simply about sticking 'bits and pieces' to a folded sheet of card and adding some kind of greeting, but isn't this what collage is about........... anyway to cut a long story short and to get to the point of this post without upsetting anyone, here is my first 'waterfall' ATC. I have become engaged in a swap on a crafting website and learning this technique fast!!!!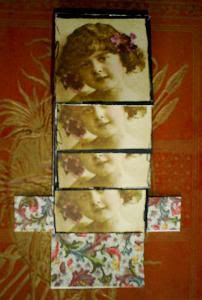 It is unfinished, because I ran into some practical problems.
In case you are not aware of this technique, if you pull on the tag at the bottom of the group of pictures (the waterfall?) you will unfold the tab and open up the images one by one. Simple really when you know how!
As a demo:-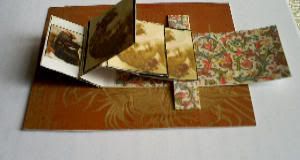 My biggest issue was scoring the card which is used for the tab without cutting into it. I watched a video on You Tube and the crafter had no problems but obviously had some special tools for the task. I must experiment to achieve the same thing with the household tools at my disposal. A plastic orange peeler was too soft, the tip of a pair of scissors was too sharp; I need a happy medium.
An artist's life is never easy.................