well I have been learning the waterfall card technique that I posted about recently, I have now made four of these in an attempt to improve on my first shown in that post. All this scoring / bending / cutting and glueing seems so much more inefficient than simply painting. Here are my efforts so far:-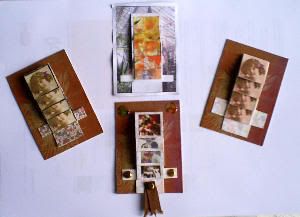 As you can see I have been concentrating on a similar theme to get it right. A close-up of the final product of this process is shown here:-
I am quite pleased with it and hope the recipient of this ATC card will like it. I have already seen her card for me and it puts mine to shame in a number of respects ( technique rather than design). I have already been asked if I would like to do another swop, and have agreed to make another similar ATC for that. So it can't be all that bad, can it?
Three of the four cards above were made in different thicknesses of card as an experiment as I had no idea what I should be using or what the card should look/feel like. All the mechanisms worked OK but the bulk of the card made using the thicker base stock was ridiculous and it was so hard scoring and folding to get the "waterfall" to lie right. I think that is why mine feels so awkward.
Should I be starting with fresh and new fields of endeavour (sounds grand doesn't it) at my age? I don't normally ask myself this question, but certainly won't after reading the latest posting from
Cape Art : Painting at 40
. By the way I am over 60!
Well I'm going back to finish off another version of this ATC, hope you'll come back again real soon - John