Well it has been a few days again. Apart from the garden tidying, my wife has me making Christmas cards - for "special friends". Every craft shop we visit seems to be geared towareds card makers and she can't believe that I am not really into this area. I have however managed one small art work this week. It is a vintage themed tag for MAMMA's challenge swap. Margarets group on Flickr is going from strength to strength, and now has some 53 members. getting to be quite a job listing the swaps at the end of the week for her I should imagine.

Well this week because of other things, espaaecially that damn nice weather which kept me in the garden, cutting down hedges, I did not manage to post the tag in time to take part in the swap. Still, it was all good experience.

Here is the tag:-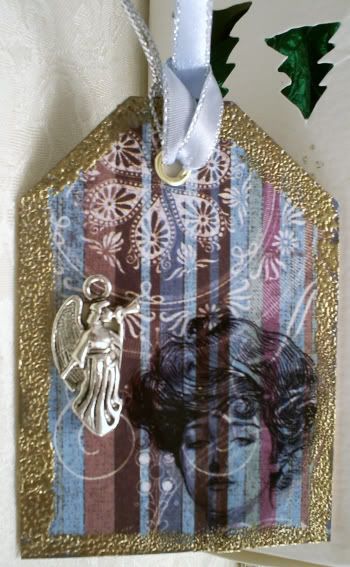 First of all the tree shapes above the tag are in a box which I had used to stand the tag against for the photo.
I used a vintage style paper and layered this to a piece of mountboard to give the whole thing rigidity. The white pattern was on this paper as well as the stripes. I put a hole at one end and applied an eyelet. I then edged the tag with gold embossing powder using a glue stick to adhere the powder. I love the pattern this creates. The portrait was printed onto acetate paper so that the background showwed thru. I embellished the tag with a metal charm ( angel) and used a light blue ribbon and silver cord tied thru the eyelet.
I have to say that my wife saw this and decided it was just what she needed for wrapping a friends birthday present. I did not have a say in the matter. I am now in the process of making several; more for christmas, to go with the cards. Oh well, could be worse I suppose......