Don't you find that a challenge gets the old creative juices flowing. But how do you choose?


I have settled on two regular ones, mostly because they both start weekly on a monday and I don't work on Monday or Tuesday. So I can mostly get stuff done early in the week.


The first challenge is from Maggies Monday Musings (MAMMA) on Flickr. Margaret Field has started from scratch and in a few short weeks has built the group up to 55 (at the last count) an incredibly friendly and mad collection of multi-media artists which make the group immense fun to be in. This weeks challenge from MAMMA was to make an ATC in Black & White. Simple, no problemo. So I started with a plain white card, got out one or two (or seven) stamps and selected a black ink pad and away we go.


I have recently had several new stamps and started off with two of these, the text (which became the title) was stamped first and then masked and the figure stamped over it. I am using this without thinking now - this old dog is definitely learning some new tricks. I used a selection of stamps to fill in the background. I then made a corrugated black border ( my wife bought me a little machine to help with the christmas cards, see previous post) and attached it with two white brads. Finishing touches were the two coils of wire (useful things screwdrivers) attached utilising two black brads. Must admit I was very pleased with it.
I then made another for the same challenge:-
I had found
a site on the web which generates an index card
, based on text you supply ( it actually gives you a yellowing card to simulate an aged and distressed item but I converted to B&W for this exercise) and I decided that I had to create something with it. The images were not chosen for any particular reason but just because they seemed to fit the bill, i.e. they were B&W. I quite like it and you have to admit it is different, but I got cold feet and haven't entered it into the swap.
Last but not least for today, is my entry for the
Lisa Vollrath, Make It Mondays challenge
. Lisa's site Go make something is a mine of information for the budding multi-media artist and I have found some great tutorials. The theme for this week is House & Home, I have cheekily treated this a little light-heartedly:-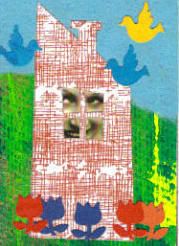 I have called this, "Location isn't everything, this house is too small". It is a simple collage using a house template from
Dan
(see the logo on the right hand side), I used white card and stamped a pattern on to it. The face at the window was similar to a card I made recently, and gave rise to the title. The background was a
handpainted
card with torn blue paper layered on to it. I then added die-cut tulips and birds to finish off the piece. Strangely, I like it!
Well that's me finished for another post - if you have enjoyed it, please visit again. I am always glad of the company.